Share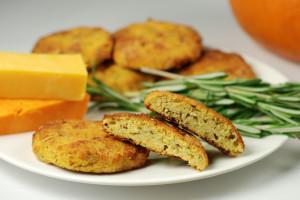 It's that time of the year again, and there is no avoiding pumpkin. It's everywhere, in all possible shapes, forms and recipes. So I am just going to go with the spirit of the season and start cooking pumpkin!
Pumpkin is reasonably low in carbs (7g net carbs per 100g) and works well in all sorts of baking and dessert recipes. For this one, we are going to make savoury pumpkin biscuits with cheddar and rosemary. 
Pumpkin sources
It shouldn't be difficult to find fresh pumpkin this time of the year – in fact, it would be hard NOT to buy one, with heaps of them in all shops and supermarkets and endless Halloween pumpkin images on social media.
Most baking recipes start with pumpkin puree. There are many ways to puree the pumpkin, or you can buy ready-made puree in cans. Unless you are very short on time, I recommend buying fresh and cooking from scratch. This is always better as you will know exactly what's in your food.
Making pumpkin puree
1) In the oven – this method is less fiddly, but takes longer overall
Cut the pumpkin in half, scoop out the seeds and stick both halfs in the oven at 350F/180C/Gas Mark 4 for about 1-1.5 hours or so, until flesh is completely soft. Cool and scoop out the flesh. Mash into a puree.
2) Steaming or boiling – this requires peeling which is always a bit of a nightmare
Cut the pumpkin in half and scoop out seeds. Peel the pumpkin (this part is a pain, I do admit). Cut into small chunks and boil or steam for about 30-45 minutes until very soft. Mash using a potato masher or handheld mixer.
I've made the puree, what's next?
Now that you have your puree, just a couple of notes before you proceed.
High moisture content. Pumpkin contains quite a lot of moisture anyway, and can soak up even more water when boiled or steamed. If your puree is homemade, it is therefore difficult to predict exactly how much water it will contain. The amount of moisture affects the texture of the biscuits, and also nutritional value including carbs count.
Texture. The finished texture of your pumpkin mixture just before baking should be similar to mashed potatoes. If it seems too watery, add a bit more almond or coconut flour (try 1 tbsp at a time). If it seems too dense, add a bit of water, again, just by small amounts like 1 tbsp at a time.
Calculating carbs content. If using canned puree, use the values as per nutritional label on the tin – there is a lot of variance brand by brand, depending on the amount of water. When making homemade puree, note down the weight of the pumpkin BEFORE you cook it, and use that to calculate the nutritional value it will add to the biscuits.
Thickening the mixture
In addition to coconut flour (which is a well-known guzzler of moisture), I am also including a bit of psyllium husks to bind moisture and thicken the mix. You can substitute this with gluten-free gum instead (such as xanthan gum or guar gum). Chia seeds would probably work too (but I haven't tried them specifically in this one).
Links above and within the recipe point to available products in our low-carb shop – currently delivering to UK and Europe only.
Print Pumpkin cheddar biscuits, low-carb and gluten-free
24 biscuits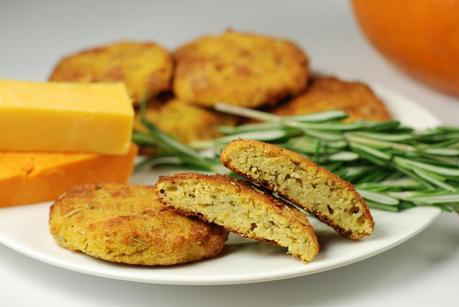 Ingredients
1.5 cup (300g / 10oz) pumpkin puree - see notes above about homemade puree
1.5 cup (130g / 4.5oz) almond flour
1 cup (120g / 4oz) grated cheddar
2 tbsp (28g / 1oz) coconut flour
1 tbsp psyllium husks
1 tbsp rosemary, freshly chopped or dried
1 tsp freshly ground pepper
pinch of salt
Instructions
Mix all dry ingredients together thoroughly
Add pumpkin puree to dry ingredients and mix well
Leave to stand for 10 minutes for extra moisture to get soaked up
Line two baking trays with baking parchment
Form thick round biscuits with your hands and place on the trays
Bake at 350F/180C/Gas Mark 4 for about 45 minutes, or until golden
Cool before eating
Assuming 24 biscuits are made from the amounts listed above, per biscuit: 65 cal, 1.5g net carbs, 5g fat, 3g protein.
Schema/Recipe SEO Data Markup by ZipList Recipe Plugin2.2
http://low-carb-support.com/pumpkin-cheddar-biscuits-lowcarb/
Recipe by Margarita White (@Carbophobic), for low-carb-support.com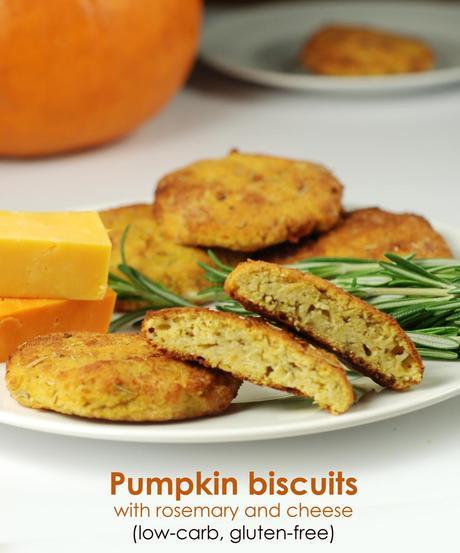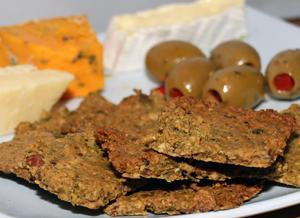 Crispy Rosemary Crackers (0.5 net carbs each)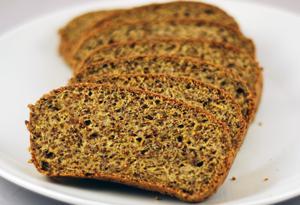 Share