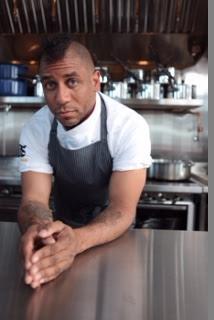 Chef Russell Jackson
Write a Pulp Fiction short story for the Chef who started the SubCulture Dining movement: Chef Russell Jackson. Chef Russell was on of the top three finalists on the popular series Food Network Star: 
http://www.foodnetwork.com/shows/food-network-star/contestants/russell-jackson.html
 and also faced off against Iron Chef Jose Garces on Iron Chef America in Battle Rhubarb. For a more extensive biography, click here: http://www.russelljackson.com/bio.html
All finalists short stories will be featured in my blog two weeks from today. These finalists will be the subject of a Tweet storm on Twitter. The winner, chosen by Chef Russell, will be the star of my blog and will receive even more publicity on Twitter and Facebook.
How do you get hold of me? Either message me on Facebook (find me under Liz Kingsbury Mckeown) or send me a private message on Twitter. My Twitter handle is @WritersBoost
Rules: The stories will have a maximum of 1,500 words, but this is not cut in stone. Chef Russell Jackson will be the subject of your story. May creative inspiration be with you!