Eight weeks ago I sowed the first radishes  'Zalta Yellow' 'French Breakfast' 'Purple Plum' and Sparkler' up at plot twenty nine in wet clay soil in between my October sown  onions.
Now I can finally pull my first little bunch of multi colored radishes big enough to add to a meal for Steve and I.  After all  we had been treating ourselves to the occasional tiny radish when we were up at the plot, nothing like a snack straight from the ground.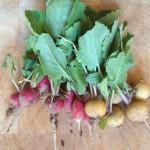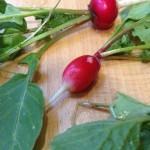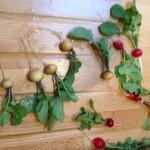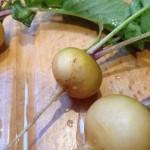 I think radishes are not used enough In the Kitchen. One of my favorite dishes is a German radish salad which I will make and share with you as soon as I have enough radishes to make it. I'm also trying to think out of the box more and have radishes in other ways and not just add a  few to a bowl of salad.
After speaking to my mom on the phone yesterday morning, we often catch up whilst the beagle and I go for our morning walk, I decided to add my own touch to a Jamie Oliver recipe she mentioned she had made the previous evening.  A very simple pasta dish with a lemon, olive oil and parmesan sauce with rocket tossed through it.  I added some fresh peas to the mix and thought that the peppery crunch of finely diced radishes sprinkled over the top would add some color and texture to this lovely dish.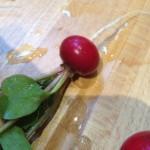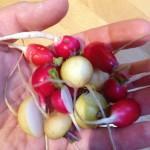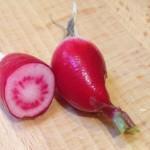 I have to say I really love harvesting something from my plot and being inspired to cook something clean and simple.  Much more fun than going shopping and ticking things of the shopping list.