Providence Journal - RI Magician Kids Party Ventriloquist Steve Zany

A Boy's Quest for Magic Leads to the White House
By PATRICIA A. RUSSELL
Special to the Journal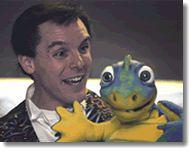 Steven Zenofsky (aka Steve Zany) has no problem with people asking for references. Topping his list: the Secret Service, followed by the White House staff. In 1997, Zenofsky, a
magician
and
ventriloquist
, was invited to perform at the White House Easter Egg Hunt. He was one of many performers who walked the White House lawn performing for the more than 30,000 guests.

His most memorable experience in Washington, D.C.? When he arrived for the long-standing, traditional event with a suitcase in tow. The Secret Service opened it for inspection. "What they discovered was a blue and yellow, soft-bodied
dinosaur
with green spots all over his body, featuring three-dimensional jeweled eyes," laughs Zenofsky, who introduced
Darryl the Dinosaur
, aka Stegosaurus, to the "guys with the burly eyebrows and dark glasses."
…Zenofsky, who describes himself as a big kid, delights in retelling how the ventriloquist met the Secret Service.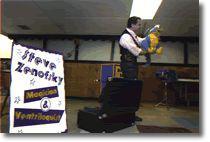 ZENOFSKY'S PASSION for
magic
and
ventriloquism
began early. "I was 6 years old and I walked into the school
library
and the first book I pulled off the shelf was about
magic
," says the South
Attleboro
resident, whose home is a stone's throw from the North
Attleboro
and
Cumberland
town lines. "The book had the most interesting things in it to perform, and I started dabbling with
magic
, using things I found at home, like string, cards, coins and shoe boxes," he says.
By the time he was in his early teens, he was performing at local nursing homes, libraries and even at the apartment complex where his grandmother lived. His fee: $5 a show.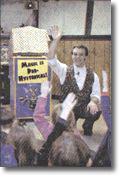 AROUND THIS TIME, Zenofsky began developing entrepreneurial skills. Wanting to reach a larger audience, he placed an ad in a local newspaper.
"That's how the magic business started," says Zenofsky, who paid his way though the University of Rhode Island, where he majored in journalism, by performing. "While my friends in college were out partying, I was performing tricks," he laughs.
And the ventriloquism? "Ventriloquism slipped in because when you go to the public library in West Warwick [where he grew up], the ventriloquism books are shelved right alongside of the magic books," he says.
After exhausting the library's offerings on magic, he started reading books on ventriloquism. He was about 11 and found ventriloquism "absolutely fascinating." The ventriloquism, though, didn't instantly become part of the show.
"Ventriloquism is probably the hardest thing I ever learned. There's so much mental calculation going on as you perform for the audience," says Zenofsky, whose earliest ventriloquist characters were puppets he made from tube socks, stretching them over his hands and drawing faces on them.
"A ventriloquist's mouth must move in sync with the ventriloquist character or else it looks like a bad overdub of a movie." There are other things, too," he says. "The ventriloquist's character should have a different sounding voice. I have a low voice; so, my character has a high voice. I also have to move the ventriloquist's character in a realistic fashion.
"If Darryl the Dinosaur says something surprising, silly or shocking then I must act surprised, too," he says. "Everything has to be carefully scripted," says Zenofsky, adding, "I'm acting for two folks."
THE DINOSAUR character joined Zenofsky's show in 1988. While you can order a ventriloquist's figure from a catalog, Zenofsky preferred to hire a figure maker who lives in California to make one for him.
Darryl the Dinosaur sometimes shares the limelight with Noodle, who appeals to older children. Noodle, a surfer, has blue skin and purple hair and likes to upstage the ventriloquist.
"He'll do whatever it takes to make the show his," says Zenofsky. "The key point in selecting a figure is to be in touch with what kids like and identify with and incorporate that in the show," says Zenofsky.
On nights, weekends and holidays you can find him at birthday parties, fairs, libraries, picnics and "any occasion that brings children together," he says. He performs about 165 times a year.
In the past he's donated his services to organizations that deal with children who have cancer.
Recently, Zenofsky performed at a holiday party at the Cumberland Beagle Club, situated off Nate Whipple Highway. "It's showtime," he says to the youngsters and their parents. The only problem is that the star of the show, Darryl the Dinosaur, refuses to come out of his suitcase.
With Zenofsky's and the audience's encouragement, the dinosaur makes a bashful entrance. Before long, though, he's acting silly. "Pick my toes. Pick my nose," says Darryl. The youngsters, gathered on the floor, howl with laughter.
"It's hard to believe it's possible to basically have two different voices and make it look like the puppet is talking" says 10-year-old Andrew Ryan. "It's kind of cool how he can do that," says the Plainville resident.
AFTER THE performance, kids always ask Zenofsky for advice about magic and ventriloquism. He tells them there are five steps:
read magic books for a wealth of information
practice — "the audience will know if you have practiced"
be yourself
have fun
and lastly, if you want to make it a business, you must perform consistently and exceed customers' expectations.

RI Magician Kids Party Ventriloquist Steve Zany - Nickelodeon Parents Pick Award Winner!