Protein Power Rolled Oats Recipe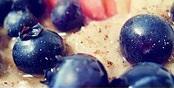 I am sure that you have heard your mother say countless times, "eat your breakfast." Your children have probably heard you say the same three words. Breakfast is one of the most important meals of the day. Eating a healthy breakfast will kickstart your metabolism and give you the fuel it needs to start the day. Studies have linked people who skip breakfast have a greater chance of gaining weight. Eating a healthy breakfast may actually help you lose weight and help support the weight you have lost.
Ingredients
* 1/3 cup Rolled Oats
* 1/3 cup 2% milk
* 1 scoop vanilla protein powder
*
* 1/3 cup dress blueberries
Directions
* Combine oats, 2% milk and water in a medium pan.
* Bring to a boil on medium to medium-high heat.
* Lower the heat and simmer for 3-5 minutes.
* Stir occasionally until oatmeal reaches desired thickness.
* Stir in the vanilla protein powder and fresh blueberries and stir for another minute.
Nutrition>
Calories 286
Protein 30g
Carbs 31g
Fats 6g
This meal is high in protein, complex carbs and antioxidants. A great way to start the day for the entire family. This would even be a great meal for after you workout.
Beast of health and happiness,
Dave Nevue