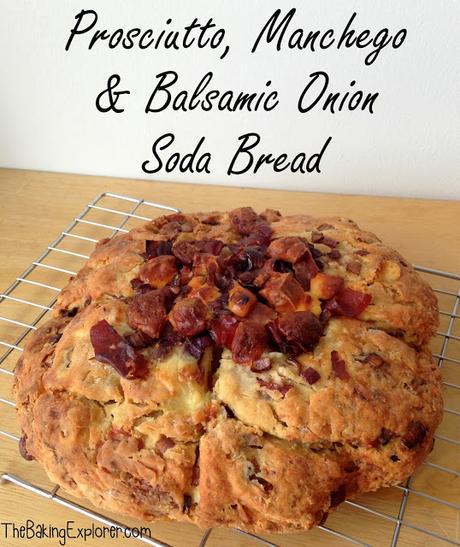 I have to say, bread week on The Great British Bake Off was absolutely phenomenal! The contestants started by making a quick bread, also called soda bread. This is a bread that is made without yeast, therefore requires no kneading or proving. Instead the rising agents used are baking powder or bicarbonate of soda. Mary and Paul warned against using too much raising agent as this would affectthe taste of the bread.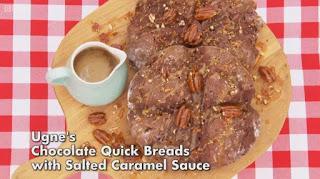 Image Source
There were a mixture of sweet and savoury flavours from the bakers. Both Mat and Nadiya made a Mexican style bread, Ian picked wild garlic from some nearby woods for his bread, and Sandy used a family recipe containing bacon that she often makes on trips to Ireland. Ugne went for the sweetest flavor with a chocolate quick bread topped with salted caramel sauce, and Paul made a cranberry and orange quick bread - which he got a Paul Hollywood handshake for!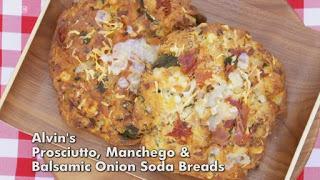 Image Source
Cheese featured in both Tamal, Alvin and Dorret's breads. Tamal used goats cheese, Dorret went for Stilton and Alvin chose Manchego. Paul called Alvin's bread a 'thing of beauty'. They loved Tamal's bread too, but weren't overly positive about Dorret's. Overall, everyone did fairly well, with only a few disparaging comments.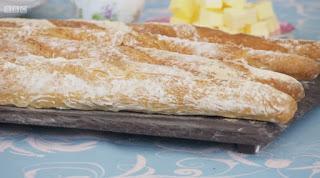 Image Source
This week's technical challenge was to make 4 identical crusty baguettes. Of course Paul left out major parts of the recipe, for example how long to prove the dough, and to put water in the oven to create steam when baking. A few of the bakers figured this out and added water, but the rest did not. They all left the dough to prove for an hour, whenever I watch them waiting for things to prove I always wonder why they are not allowed to take a book with them!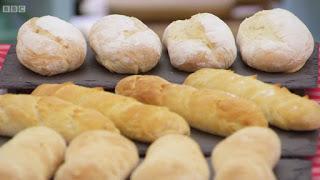 Image Source
The bakers weren't sure where to put the dough during proving, or how to score the top of the bread before baking. I love how such a simple thing, like a baguette, can lead to so much over thinking and confusion! Paul was very brutal during judging and Mary really had to push him to say something nice. Paul, Mat and Nadiya were the bottom three, Tamal came third, Flora came second and Ian came first. Although Paul still wasn't 100% happy even with the better baguettes!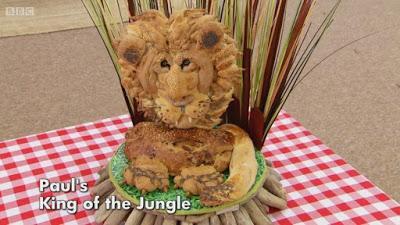 Image Source
The showstopper challenge was to make a 3D bread sculpture using up to three types of dough, and one of the type had to be a filled bread. A very tricky challenge! Paul Hollywood noted that as dough grows it can loose definition so this was a particularly difficult remit for the bakers. This however, did not affect most of the bakers as they produced some fabulous results! Paul stood out with his brilliant bread sculpture of a lion. I was blown away by how good it was! Paul Hollywood said it was exceptional and the best thing he had seen made in bread ever.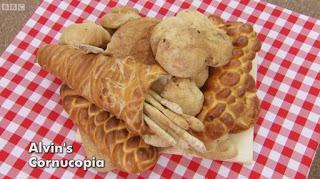 Image Source
I also loved Ian's flower pot sculpture, it was so clever. He brought another home made baking tin with him to make it, such a talented guy! Alvin also made an absolute ton of bread, and he made it all beautifully for his cornucopia sculpture. Paul Hollywood said his bread baking skills were perfect.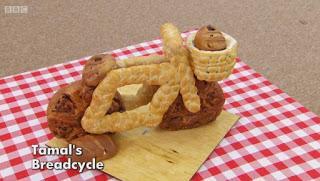 Image Source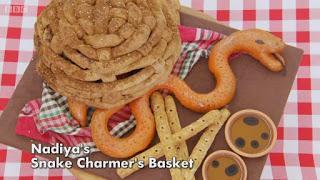 Image Source
Tamal made a very impressive bicycle sculpture, which was even more amazing because it stood up. Paul Hollywood called it spectacular and loved his range of techniques. And Nadiya made a fabulous snake coming out of a woven basket. The level of creativity and skill was stunning.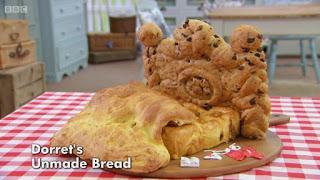 Image Source
Dorret and Sandy didn't do too well. Dorret's unmade bed sculpture was not baked through, and Paul Hollywood did not think it looked like 5 hours worth of work. Sandy's bread sculpture looked messy and was told her pitta bread poppies tasted like cardboard.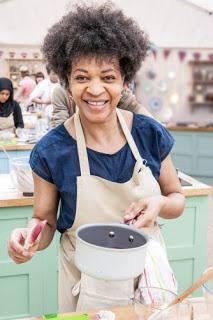 Image Source


Dorret left us this week, to be honest I have thought she was lagging behind everyone else since the first episode, but she had managed to stay under the radar. With this week's amazing bakes, hers just could not compete. Ian was awarded star baker for a second week running, deservedly so! Paul also got a special mention for his lion sculpture as even Paul Hollywood said he would never have attempted something like that. Next episode: desserts!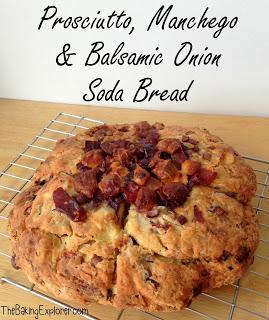 I absolutely loved the sound of Alvin's quick bread and I found the recipe for it on the BBC website, so I decided to give it a go myself. As it includes meat, I made two of them, one without any prosciutto for my vegetarian boyfriend. I'll detail the ingredients for just one loaf below, so if you want to make two, double the ingredients. Or if you want to make a vegetarian version, just omit the prosciutto.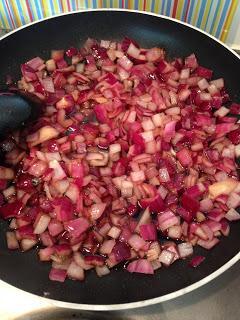 I started by cooking 1 finely sliced red onion in 1 tbsp olive oil. When it was soft I added 1 1/2 tbsp balsamic vinegar and 1 1/2 tbsp soft light brown sugar. I let them simmer for around 15 minutes. The recipe suggested more balsamic vinegar, but when I added half it looked more than enough.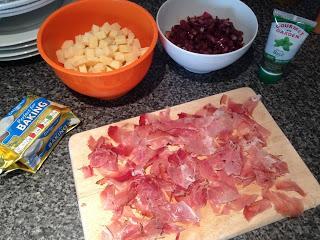 I diced up 200g manchego cheese. I've never tried manchego before, it's pretty expensive! But it is very tasty so for a one off recipe I felt it was ok. I also cut up 80g prosciutto.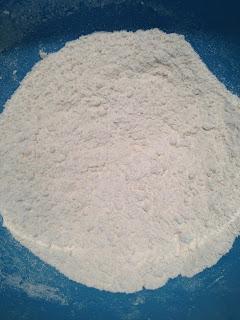 In a bowl I sieved out 450g plain flour, 1 tsp bicarbonate of soda and 1 tsp table salt. I rubbed 30g cold diced butter into the flour until it resembled breadcrumbs.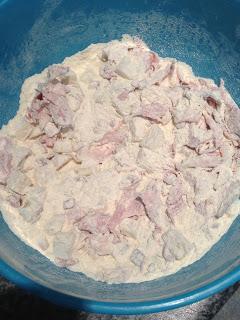 I mixed the cheese, prosciutto and onion into the flour along with a squeeze of basil puree, I reserved a small amount of the fillings for topping the bread.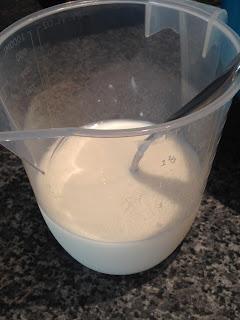 In a jug I mixed 300ml buttermilk with 25ml water.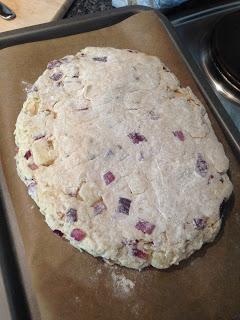 I added the buttermilk to the flour and brought it together to make a dough. Work it as little as needed. I shaped it on a lined baking tray, dusted with flour and scored it with a cross down the middle.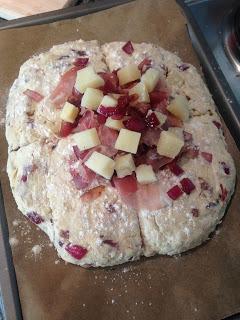 I topped it with the reserved cheese, onion and prosciutto.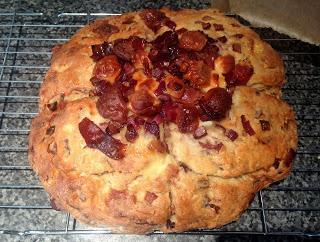 I baked the loaf on 180C/350F/Gas Mark 4 for an hour. It took a bit longer than the recipe suggested. I covered it with foil after the first 40 minutes as it was browning enough. I waited until it sounded hollow when tapped on the bottom to take it out. The kitchen certainly smelled good! I brushed it with melted butter and left it to cool.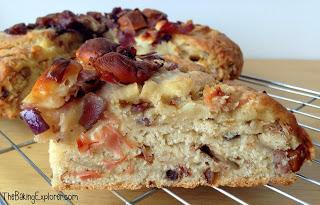 Well my bread certainly didn't look as good as Alvin's! But for a first attempt I was pleased, it was cooked all the way through and it tasted really delicious. My boyfriend loved his vegetarian version too and we both gobbled up a chunk of the bread with some soup.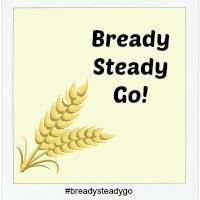 I'm linking this bread up to Bready Steady Go, hosted by Jen's Food and Utterly Scrummy Food for Families.