Unless you've been living under a bridge in the middle of nowhere for the last 5 years you know who Connor McGregor is; this is his whiskey. I don't mean I stole this sample of Proper Twelve Irish Whiskey from him, though that would be a cool story, I mean that he worked with the Bushmills folks to create this standard blended Irish Whiskey that in no way represents the flash and power of Connor himself.
If you're wondering why I think this whiskey comes from Bushmills it's pretty simple: I read the press release. In the release it says Connor "turned to the world's oldest whiskey distillery, located in Ireland…" which is Bushmills claim to fame. It also says he worked with "David Elder, esteemed master distiller, previously of Guinness" but whose most recent position, per his LinkedIn, was Distilling Manager at Bushmills. They go through great lengths to not say what's right in front of you.
Proper Twelve Irish Whiskey Review: Details and Tasting Notes
In Eire Borne Spirit's Words: Proper Twelve Irish Whiskey
"Proper No. Twelve's Triple Distilled Irish Whiskey is an ultra-smooth blend of fine grain and single malt with hints of vanilla, honey and toasted wood."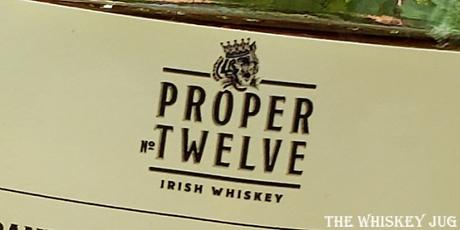 Proper Twelve Irish Whiskey price, ABV, age and other details
Region: Ireland
Distiller: Bushmills
Bottler: Eire Born Spirits
Mash Bill: A blend of Irish single malts and Irish grain whiskey
Cask: Various
Age: NAS (At least 3 years)
ABV: 40%
Price: $25*
Proper Twelve Irish Whiskey Tasting Notes
EYE
Orangish copper
NOSE
Pears, honey, vanilla, some spice and a bit of grain and oak.
PALATE
Applesauce, honey, vanilla, spice and a touch of caramel and oak.
FINISH
Medium -> Vanilla, dried pears, applesauce and acetone.
BALANCE, BODY & FEEL
Ok balance, medium body and a smooth light feel.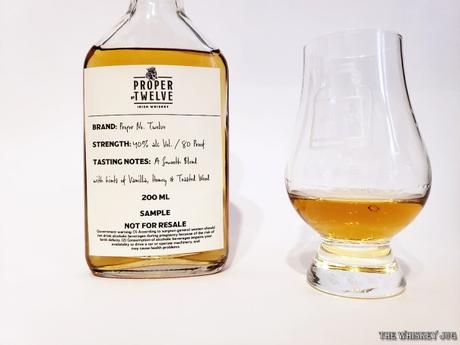 Proper Twelve Irish Whiskey Review: OVERALL
The overall profile of the Proper Twelve Irish Whiskey is light honied fruit… just like every other young blended Irish whiskey out there. The aroma, the palate and even the finish are pretty standard for the likes of Bushmills White or any of the other dozens of entry-level low proof Irish blends out there. Though what isn't standard is the color.
Irish blends, like those mentioned, aren't this dark so I'm suspecting some e150a might have been employed because it doesn't smell or taste old enough to be this dark and I don't get a whiff of sherry. On the whole it is a fairly standard Irish blend that is neither daring or flashy, nor does it pack a punch; it's the antithesis of its creator.
I respect Connor as a fighter, I enjoy watching his fights, and knowing his flash, style and knock out power I expected his whiskey to reflect that. Instead, we have nothing more than another young, low-proof, grain heavy Irish blend on a shelf already overburdened by the same. Proper Twelve is really no better or worse than something like Bushmills White or Kilbeggan Blended Irish Whiskey and doesn't deserve any more heat or derision than you would those or dozens of whiskeys like them.
Seriously, if any of a dozen faceless NDPs out there had released this the whiskey community would have shrugged its collective shoulders and said "meh, just more of the same" and moved on. But because there's a celebrity involved everyone wants to talk shit because humans enjoy dragging celebrities through the mud even more than we love to "worship" them, which is a gross reflection on us as a society.
Getting back to the whiskey, my only other take-away from the Proper Twelve Irish Whiskey is that one of two things have to be true for someone like Connor to release something like this. Either he has the same narrow perception of Irish Whiskey as the majority of drinkers, or he really likes simple basic whiskey. Or marketing folks got to him… so make that one of three things. Cheers.
SCORE: 76/100 (C)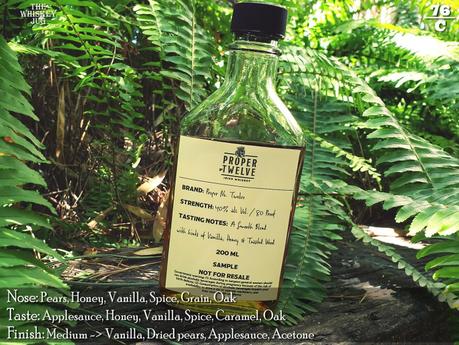 *Disclosure: This Proper Twelve Irish Whiskey sample was graciously sent to me by the company for the purposes of this review. The views, opinions, and tasting notes are 100% my own.
Proper Twelve Irish Whiskey Review
25
Nose -

76

Palate -

76

Finish -

76

Balance, Body & Feel -

76
76
Proper Twelve Irish Whiskey Review Summary
Proper Twelve Irish Whiskey is on par with Bushmills White, which makes sense since that's essentially what it seems to be.
Sending
User Review
0

(

0

votes)
Comments Rating
0

(

0

reviews)

''