Every woman knows her own face. She applies makeup as she was taught, but most women are denied the opportunity to get a professional makeover. Still, with quality products, some good advice, and the right lighting, every woman can make up for a day at work or and evening on the town.
According to The Guardian, "Some will say it makes them feel more confident, that they don't feel completely 'done' without it."
Sunlight is probably the best source to light your face while applying makeup. The best mirror and light setups can be costly. You can still find affordable mirrors with vanity lights to apply your make up with class.
5 Best Choices
The best lit up makeup mirror may be in the eye of the buyer. But, if you want to manage the light, fit your daily needs, and still have some money for additional beauty aids, here's a short list you can explore: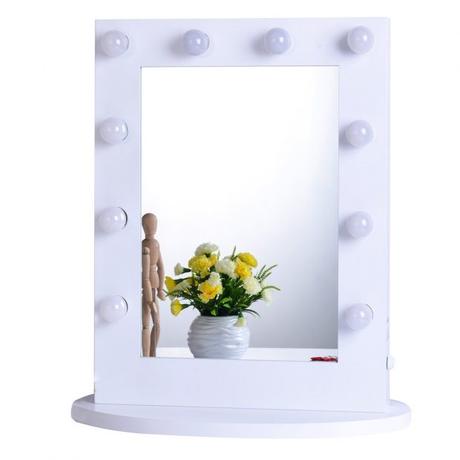 Chende White Hollywood Lighted Makeup Vanity

reminds you of the classic movie star vanity mirror framed with 12 LED lightbulbs.  The mirror measures 24.4" x 18.5" with a white frame extending it to 31.5" x 24.6" x 2.4". It sits on a dressing table or hangs on the wall. A front dimmer dial modulates the bulbs and set comes with two extra bulbs. A smaller vertical version with 10 bulbs measures 24″ x 16.5″ in a 25.6″ x 19.7″ x 2.4″ frame.




Much less expensive, the

Easehold LED Lighted Vanity Mirror is a trifold model with 21 soft warm white lights. The three panels engage all sides of your face for more meticulous makeup application. It folds like a book for storage and protection of surfaces. The lights are USB charged or 4-AAA battery powered. A recess at the base holds earrings, watches, or cosmetics.




 Jerdon Tri-fold Two-Sided Lighted Mirror has 5x magnification. Lights adjust for daytime, evening, home, or office.  The trifold and adjustable stand offer 11 angles for viewing. The 10.75" x 12.75" mirror sits in a 11.75" x 19.25" x 2.5" frame. Sturdy and sleek, it comes with an electric outlet on the front and a 1-year warranty.

Yet another affordable tri-fold, the

Maibtkey Makeup Mirror

is a portable travel vanity with 22 LED lights. It sports a 2X and 3X magnification and rotates 180°. It comes in at 11" x 7" x 4.7" and 1.6lbs. for easy travel packing.




A fun and practical version, the

Yoyokit Lighted Makeup Mirror

is rabbit-shaped It's a 2 in 1 folding mirror for vanity table and travel. Sophisticated engineering offers touch screen dimming. The front is a lighted makeup mirror, and the back serves as a table lamp. The 3-level dimmable soft white lights circle the mirror to eliminate shadows. You can move the detachable 7X magnification spot around the circle to focus on functions like mascara, eyebrows, or contact lenses. It carries light, charges with its USB cable, and offers a 100% money back guarantee on its modest price.
The New York Times reported on an experiment testing perception of women with makeup, it concluded, "Just as boardroom attire differs from what you would wear to a nightclub, so can makeup be chosen strategically depending on the agenda."  And, a best chosen bright lit makeup mirror always helps you make up with class.
Share this Post