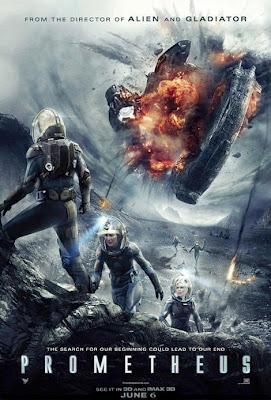 The first reviews for one of the most highly anticipated films of the year, 'Prometheus', have finally been released.  The film, which sees director Ridley Scott finally return to his Alien roots, has been shrouded in secrecy throughout the entire filming progress.  However, some lucky critics have been treated to advanced screenings - but is it all its cracked up to be?  
Perhaps, shockingly, not.  In fact, rather surprisingly, the film has received mixed reviews, ranging from plain average to rather good. But they're all a far cry from the 'absolutely perfect' we were hoping for.  For all you magazine geeks like myself, 'Total Film' gave it a very respectable 4 stars, whilst 'Empire Magazine'  only gave it a vanilla 3 stars. So what gives? 
Heading over to the newspapers, Peter Bradshaw for 'The Guardian' also gave it 3 stars, praising only how '
u
pstaging everyone is Fassbender, who provides the film's real glint of steel, while decentring its dramatic focus
'.  Its good to know that we can still rely on Michael Fassbender to provide the goods. 
Whilst 'The Telegraph' has given it 4 Stars,  stating that '
Ridley Scott's Prometheus is a slime - spattered, blood - spurting, science - fiction adventure
'. 
So who can you trust? Our best bet is to wait and see the film yourself. Chances are, if you're familiar with the original Alien, your reaction will be highly different to someone unaware and simply looking for a Friday night film.  But, we have to admit, our hearts broke just a tiny bit when we didn't find any golden 5 stars. 
Please God let 'The Dark Knight Rises' be a triumph.