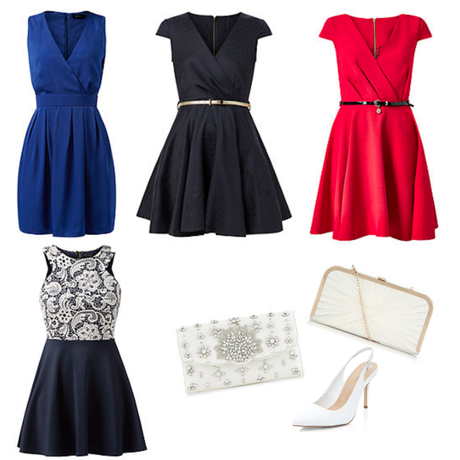 Although it's only January, prom (or graduation) season will before you know it, so now is the time to start looking for that special dress to wear on your big day. Talking about proms really takes me back, I can't believe mine was almost 5 years ago now! It feels like only the other day and I still have my dress hanging in my wardrobe, waiting for the day it will get worn again. I doubt it ever will as I opted for a floor length, formal dress, but I live in hope! Anyway, New Look asked me what I thought would be the 'it' prom dress style of this year and here is what I think…
The skater dress is my ultimate favourite, and I think it will always be a popular choice for proms. The flattering shape looks good on any figure and if I could go back and do my prom again I think I would opt for this style. I'm actually going to a wedding in April and I'm looking for a dress to wear for that so may have to go and find some of these beauties to try on! The v neck and nipped in waist gives you a lovely shape, whilst the flared skirt still looks good after you've ate a three course meal and feeling slightly full! I think it can be hard to find prom dresses that don't look tacky, personally I'm not a big fan of color but think the blue and red ones above are just gorgeous, and red always looks lovely if you've got pale skin like I do.
As prom season is usually around summer time I definitely think we are going to see a lot of nude and pastel pinks dresses too. (Note the skater style again, can you tell I'm obsessed). The whole nude look is my favourite, nude dress, nude bag, nude shoes, it's so feminine and sophisticated and I think that style is so much more popular now with people like Kate Middleton ruling the fashion lands. Of course floor length dresses are always going to be popular too so I had to include at least one. The simpleness of the nude and black one above is beautiful and I think the whole darker bits on each side of the waist is going to be a popular style this year because of how lovely it makes your figure look!
What do you think will be the most popular prom dress style this year? When I was at school it was still in the fashion of people have giant brightly color puffy dress things, the most hideous things in the world and I can only be forever happy that I never had one of those! I definitely think those won't be the it style dress this prom season! You can shop the New Look prom dress range here, and I would keep checking as I'm sure they'll be adding a lot more in the next month or two!
*This is a sponsored post, read my full disclaimer policy here.