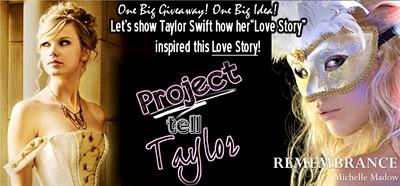 Michelle Madow, the fantastic author of Remembrance

is hosting a giveaway calledproject tell Taylor. Michelle Madow wants to reach Tayor Swift and show her howmuch her music video

Love story

inspired her. I hope this reaches Taylor Swift! I loved the book and I alsolove Taylor Swift. She is amazing and has also inspired me in life and in myown writing.
I ask that everyone helps Michelle Madow out andtweet, blog, facebook about this event. I think Taylor Swift will be honoredwhen she find out about Remembrance.She even has a copy waiting for her in her fan mail!
For more information and to enter  Michelle Madow's HUGE Remembrance Prize pack go to her Blogpost: Project Tell Taylor
Giveaway
In Honor of Loving this book so much I'm going to jointhe giveaway hop and you can enter to win an e-book copy of remembrance fromme! Just use the rafflecopter form on the bottom of the post. To win you mustbe a follower of my blog. Please try to spread the word as much as you can, notonly to win the book. Make your own post, tweet about it and make sure to tagTaylor Swift. Michelle Madow has a great tweet to use on her giveaway. Thisauthor deserves our help!
Here is my Review of Remembrance by Michelle Madow,which was originally posted here.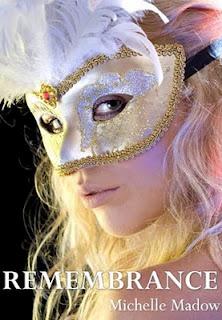 Remembrance byMichelle Madow
★★★★★
Lizzie's life changedas she knew it the moment she saw the new student Drew on the first day ofschool. She felt a connection with him like she knew him from somewhere but shecouldn't have. Lizzie's best friend Chelsea took an interest in him and Lizzie wasbothered by this. She couldn't express her feelings because she didn'tunderstand them herself, not to mention she had a longtime boyfriend, Jeremy.Lizzie and Drew couldn't fight fate for long before Lizzie had begun seeingflashes from their past lives. She realized they were connected deeper than shecould have ever imagined; reincarnation.
This book had mecompletely entranced. I couldn't stop turning the pages. Michelle Madow's wordsflowed beautifully making it so I couldn't put it down. It kept my interestfrom the very beginning and I love it when author's can do that. There are somegreat books I have read but it takes at least one hundred pages before the bookgets interesting and in that time I can get distracted. When the authorcompletely has me from the very 
beginning I absolutelylove that!
I also thought it wasreally cool that the book was inspired by Taylor Swift's music video,

LoveStory. The author saw this video and created the story behind it. That isjust awesome. I think if Taylor Swift was to read this book she would behonored. Taylor Swift created a magical music video and Michelle Madow expandedthat magic into a whole story.

a Rafflecopter giveaway<a href="http://rafl.es/enable-js">You need javascript enabled to see this giveaway</a>.