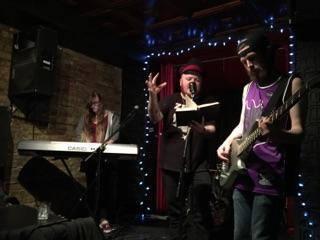 By Chellsea Santini - Guest Reviewer, What turned out to be a cold, blustery, and snowy Sunday evening was no match for the fire burning inside The Central when Brockville/Ottawa folk punk band Project Mantra came to town.
With a solid hour long set, Project Mantra blasted through song after song from their new CD "Fusion Manifesto," and threw in some special easter eggs for the supportive audience at the quaint performance bar.
The program also featured somber and soulful performances from Toronto area artists Jordan Paul and Sara Wilkinson. The entire evening was jam packed with soul stirring talent that has developed immensely and fit together fluidly. That said, few could match the energy and humour that Project Mantra frontman Leigh Bursey brought to his off the cuff and brazen political banter about current world events. When talking to the activist-friendly crowd, Bursey chastised that "if we want to solve the refugee crisis, we need to stop making refugees," and that "no one on the streets of Toronto should be cold."
With song dedications to the Black Lives Matters Toronto protesters, and unique renditions of such songs as "Summer Dress" (originally by Toronto band July Talk), the performance was a lot of fun, high energy, timely and exciting, incorporating more and more vocal sharing with their new keyboard player Audrey Cahoon. This band continues to offer something fresh and intriguing to each crowd they play for. Both Alex Hodges and Justin Steacy continue to offer a certain urgency worth holding on to.
And considering the weather, any band willing to brave those highways to share their stories, deserves a lot of credit for the dedication to their craft. https://www.facebook.com/ProjectMantra
If you would like to support Project Mantra in their persuit of a slot on the Amnesia Rockfest lineup, head over to http://amnesiarockfest.com/cr2016/liste.php?lang=en
Scroll down and vote for Project Mantra, and be sure to tell all your friends to do the same and go back everyday to help Project Mantra get on this huge national stage.