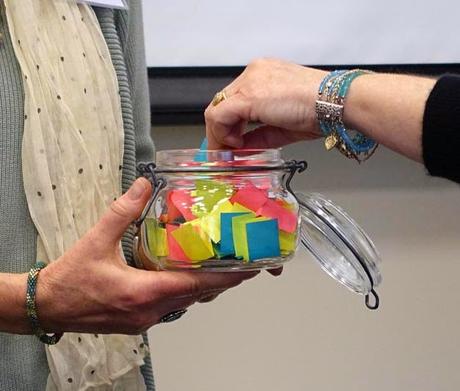 Pick a Word from the Poetry Jar and use it to Create a Poem
April is Poetry Month! In February, I attended a poetry workshop called
Poetry Jar Jamboree
at the
Charlotte S. Huck Children's Literature Festival
led by award winning poets
Kristine O'Connell George
and
Rebecca Kai Dotlich
in which they took a lively look at creative ways to employ a humble jar as a creative writing portal in the classroom–or at home. From the jars themselves–a jam jar, pickle jar, milk bottle–to their varied contents and other uses, they showed how simple things in our lives can be the jumping off place to write a poem.
In one exercise, a jar was filled with colored slips of paper, each with a single word written on it. Kris and Rebecca then demonstrated how one can brainstorm with the word through drawing pictures--as a tool for describing the word--as well as creating word webs--as a way of thinking of verbs, metaphors and other associated ideas. Then, each of us in the workshop drew a slip of paper from the jar and took a few minutes to begin to construct a poem. I drew the word "fence". It brought to mind a fence I had once seen on an abandoned ranch as we drove through land now part of a wildlife preserve in California's Carrizo Plain. I wrote:
Running through tall, dry grass, the fence leaps into the hills, its tilted posts strung tight with twisted wire.
That's as far as I got in the limited time, but it was a beginning. It needs more work, but I could see how this exercise helps make writing poetry much more approachable, especially for people like me who don't consider themselves poets. Thank you Kris and Rebecca!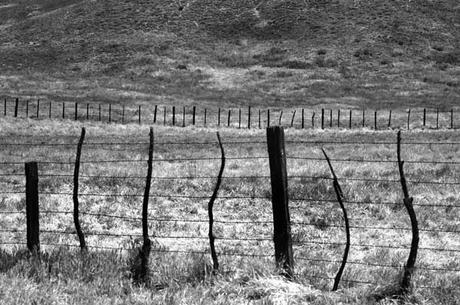 Fences, Carrizo Plain, California