Never have I lost hope in the Philippines. Not that I am by nature an optimist whose vision is always directed to clouds silver lining. Nor am I a die-hard patriotic citizen whose repugnance is evident whenever country criticisms arise. But simply because of the fact that our very own Philippines has the capacity to achieve progress in its own pace.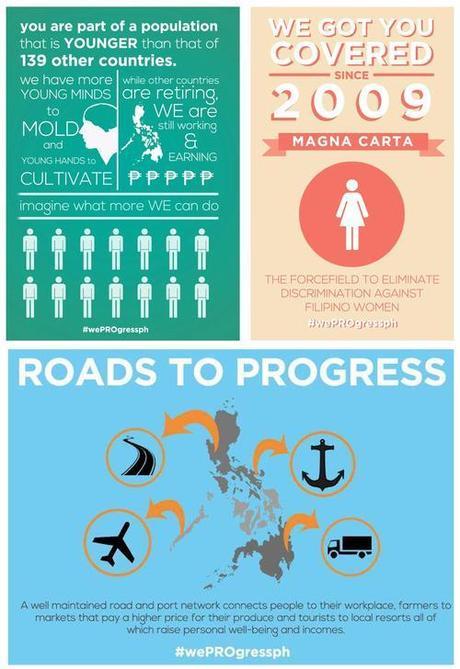 Mid of October when I came across infographics virally shared on Facebook and Twitter. Its well-executed designs were rooted from well-researched information, hence branded the said rich-media as something attractive to the eyes and appealing to the mind. I wondered, "who's behind the creative online materials?" and "who's the mastermind of the brilliant ideas?" Curiosity was satisfied when I arrived at #wePROgressph – "a platform through which we can discuss our country's most pressing issues and propose well-meaning solutions to achieve the one thing we all want – PROGRESS."
Why I bothered to promote #wePROgressph? 1) It is a testimony that the Philippines is a Third World Country that POSITIVELY STRUGGLES, 2) It is a reminder that progress is not a far-fetched idea but an attainable goal made possible through UNITY, 3) It is an antidote to CIVIC INDIFFERENCE as it provides factual and good information, 4) It is a channel that triggers CRITICAL THINKING as it exposes philosophies of Filipinos on presently-faced issues, and 5) It is a maximization of SOCIAL MEDIA as a communications tool that is capable of promoting meaningful content. Feed your mind. Share your thoughts. Join the discussion at #wePROgressph on Facebook and Twitter. "Only together can we achieve".