(Moscow) The title of the article is "Who's Left in Russia?" and authors Louise Dickson and Sophia Tupolev chronicle the flow of expats who have left Russia in the past year, and profile those who have chosen to stay.
In the article, they write that "Russia's opportunities for expats are shrinking faster than its economy, it seems. Economic growth is forecast to contract by as much as 5% in 2015, the ruble has depreciated 50% against the dollar, and foreign companies are jettisoning off Russian ventures."
For many expats, staying in Russia has become more difficult. Not only have economic opportunities shrunk, but attitudes towards "outsiders" are hardening. The two observe that "…Russia's collapsing economy that no longer demands as many Western specialists. Many have left, but some have stayed." The article profiles five expats who share their experience in Moscow's rapidly changing business landscape.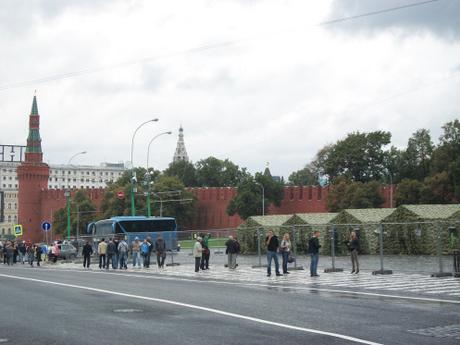 Tourism was far more active in previous years, such as this photo taken by the Mendeleyev Journal at the rear of Red Square in 2011.
However, it is not only the expat community that is in decline. Tourism is down, especially since the annexation of Crimea. "Since this time last year, 499,000 fewer Westerners lived in, visited, or studied in Russia, or an average net loss of 1,360 per day."
Similar reports by trustworthy sources such as VICE News and Journeyman Pictures show that some regions, such as Crimea, have lost nearly all of the typical tourism trade since Russia invaded Ukraine in 2014.
The article is featured in Russia! magazine. Author Sophia Tupolev is the creator of a Russia advice portal, AskSophie! She also works for RT, and is the creator of Moscow's Russian Conversation Club. Louise Dickson is a Moscow-based journalist. Follow Louise on Twitter @louisecdickson.