An excellent house design starts with a professional floor plan. Your dream home may look like a classic architectural property or a combination of different styles like modern, colonial, chalet, contemporary, Mediterranean, Victorian, English cottage, craftsman, log cabin, between many more. Well done 3D floor plans are one of the most cost effective solutions to make everyone involved to understand the project equally. Architects, developers, investors, home buyers, and planning officers will get many advantages when having this type of visualizations from the initial stage of the project.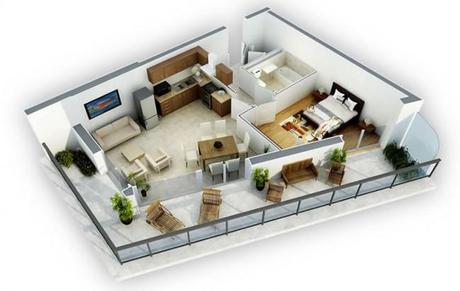 3D Floor Plans make life simple because of different reasons:
Providing help to Real Estate developers & realtors. They are able to show properties with a great level of detail before they are built. They can also present them offshore really fast with the aid of the internet.
Empowering the builders marketing package, computer generated colored plans are between the most efficient products in the construction market.
Captivating home buyers, life-like floor plans help them visualize how their house will look like.
Making the pricing of properties easier.
Promoting the generation of new ideas that can improve the property before construction begins.
Nowadays, professional 3D floorplans are very important elements of the property development industry. When this visualizations are combined with an architectural animation, their marketing benefits and results can be more than surprising. If you have used a 2D or three-dimensional house plan before for any other purposes we would like to hear from it in the comments section.