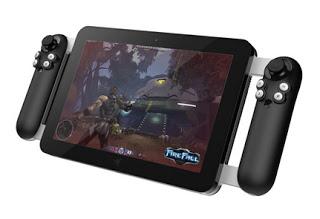 Earlier of this year, at the CES event leading gaming equipment maker
Razer introduces Project Fiona
, a concept they created their Windows 8 tablet with a reliable
gaming
capabilities that will be priced under $ 1000 and is planned to be released by the end of this year.
 Fiona was seen as a true Windows 8 gaming tablet. For its spec, Razer uses the processor gene 3 (Ivy Bridge) Intel Core i7, with solid-state drive (SSD). Razer CEO Min-Liang Tan said he wanted to underscore about Ivy Bridge and Windows 8, but it may also Razer will use chips from AMD or NVidia. Other spec, touch screen 10.1-inch, 1280x800 pixel resolution. Fiona also has dual analog, as well as the ability to play PC games with full capabilities such as Skyrim and World of Warcraft.
Of course it was very interesting tablet, although merely concepts. But Tan has just announced on her Facebook page that if he posts (with photos) to get 10 thousand devices like or share during the first 7 days, Razer will start to make this project a real product. And just two days turned out to Tan has reached the target, until the story is like the number has reached more than 11 thousand people. So be prepared for gamers, because Tan has said that
Fiona tablet
will be released at a price of under $ 1,000.
origin source by BGR