Hi everyone! I haven't done a product review in AGES, but over the next few weeks there will more of them. Lately, I got into the Puretopia skincare range, so there will be a few them around the blog soon.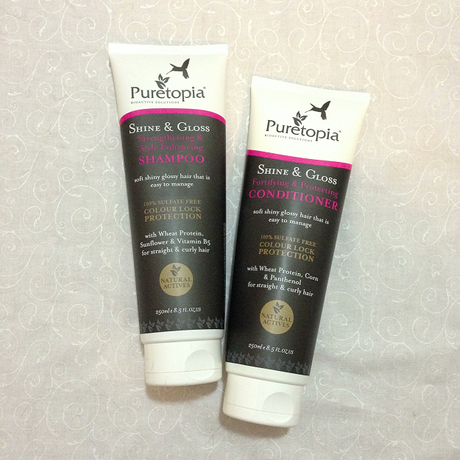 • Affordable
• Nicely scented – not overpowering
• Gentle on the scalp
• Free from parabens • Shampoo texture is thick like honey, making it almost impossible to squeeze out of the tube
• Conditioner is runny – the completely opposite to the shampoo
• Results don't last very long, which means you have to wash your hair more frequently


I had really high expectations for this duo and I wasn't really impressed with it. It did give my hair that shine and gloss, but only after a day and half my hair would get really oily which forced me to have to wash my hair every second day instead of the 3-4 day, which I prefer.
I also didn't understand why the shampoo consistency was thicker than the conditioner; it's a little difficult to squeeze out whereas the conditioner was almost water which meant you had to use a lot more conditioner you'd normally need to.
Overall, it's not a bad duo if you don't mind or prefer to wash your hair everyday. I personally don't like to wash my hair everyday and I find that this doesn't work with my hair type.






Available from Priceline, some pharmacies and anywhere that sells Puretopia proucts RRP $10.99 each (250mL)

LOVE 
(

0

)
LIKE 
(

0

)
RELATED POSTS:
PRODUCT REVIEW: A?sop's Equalising Shampoo & Classic Conditioner
PRODUCT REVIEW: *NEW* Organix Biotin & Collagen shampoo & conditioner
(Mini) BEAUTY BOOTY – A?sop
PRODUCT REVIEW: TONI&GUY Classic Smoothing Lotion
REESE RAVES – September