Hi everyone, I've got another product review from the Puretopia shower range. Enjoy!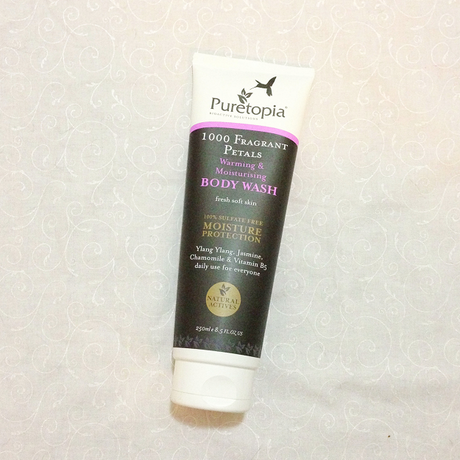 • Affordable
• Lightly scented of Ylang Ylang and Jasmine
• Gentle on the skin
• Free from parabens
• Lovely pearlescent appearance
• Lathers well and not too soapy • Not readily available with other Puretopia products


I liked this body wash, however it didn't WOW me like I expected it to.
I loved that it was thick and had a beautiful pearlescent sheen to it and how the scent of Ylang Ylang and Jasmine stayed on my skin after my shower. It lathers perfectly and isn't too soapy either, that it will dry your skin afterwards. However, there are better body washes out there. For the price and what it does, it's great, but you get what you paid for.
This product is also a little hard to come by as it's not always sold with other Puretopia products.






Available from Priceline, some pharmacies and anywhere that sells Puretopia proucts RRP $7.95 each (250mL)

LOVE 
(

0

)
LIKE 
(

0

)
RELATED POSTS:
PRODUCT REVIEW: Lush's Turkish Delight smoothie
PRODUCT REVIEW: Spongeables
PRODUCT REVIEW: Premium Spa Lemon Butter Salt Body Scrub
PRODUCT REVIEW: Puretopia Shine & Gloss Shampoo & Conditioner
PRODUCT REVIEW: A?sop Rind Concentrate Body Balm