Hi beauties! Here with a brand new skincare kit by One Skin System.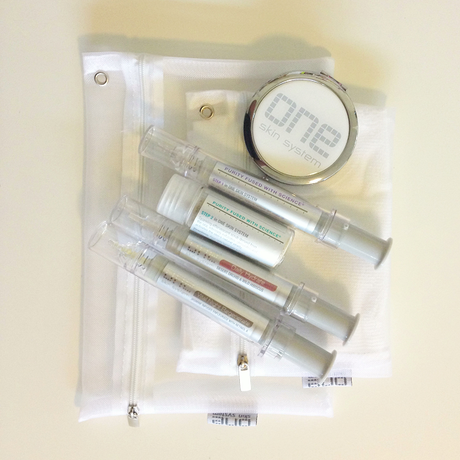 ▪ Light floral fragrances
▪ Good product sizes for kit
▪ Labelled well and clearly – so you know which product to use in order
▪ Interesting packaging, but also very handy with a compact mirror and scrub
▪ Australian made and owned
▪ Free from Parabens, Petro-chemical by products, Propyl ingredients, artificial colours and fragrances, mineral oils. No Palm Oils added.
▪ Ethical harvasted ▪ Certified organic? It does mention that it's "ethically harvasted" but I'm not sure if that means organic.
The kit comes with 10mL of the Renewal Cleanse, Purple Waterlily and Passionflower (step one); 15g of the Active C Scrub with potent pure Vitamin C and Wakame (step two); 10mL Daily Hydrate, Desert Orchid and Wild Hibiscus (step three) and 10mL Vital Night Regenerate, Jasmine infused enfleurage with retinol A (step four).
The kit also includes a compact mirror and a scrub cloth, which is always handy whilst traveling.
All products are numbered so you know what product to use next, which is really helpful especially when you're starting a new skincare routine and products.
Three of the products come in very cute syringe form, which I think it quite clever. It's helps you control how much product you use and how much you've got left. It also has a lock system so it doesn't accidently spill out while they're in bags.
Renewal Cleanse (step one)
A very light cream cleanser that smells amazing when you're massaging it through the skin. It gently removes makeup, daily pollutants and excess oils from the face. The only thing I'm not too sure of is if it removes waterproof makeup (I don't wear it), but it cleansed my skin effortlessly and removed all of my makeup.
Active C Scrub (step two)
The first thing I notice is that it's dry, usually scrubs/exfoliators come in a paste or cream form. This is completely dry; powder form. But don't let it fool you – it's activated by water! Just add a few drops to a small amount on the palm and apply it straight to the face in circular motions. It's very light scrub and smells divine, in the bottle and on the skin. Scrubs the skin clean without stripping the skin of it's natural oils and doesn't leave your skin dry afterwards. I really enjoyed this scrub.
Daily Hydrate (step three)
This is actually thicker than I thought it was, but proves to be an amazing moisturiser. Again, smells amazing with Desert Orchid and Wild Hibiscus. Although it's very thick, it's not heavy on the skin and is not greasy or sticky. Would be perfect in the colder seasons, but works just as well in the warmer whether too. Only needs a small amount and it generously covers the entire face, neck and décolletage. I was very impressed with this product.
Vital Night Regenerate (step four)
This product was the highlight for me. It comes in an serum form, which is light on the skin absorbs very quickly and again smells beautiful. I find that less is more, so you don't need to go overboard with it. Apply gradually helps control how much you apply; a couple of drops at a time. When applied after everything else, your skin will feel soft, hydrated, smooth and healthy.
I love kits like these because you get to sample a lot of products, pick the ones you like and then repurchase the full size – each full size product is available for individual sale – so, you don't have to buy the whole kit all over again if you don't like one or two products. This kit alone has enough product to last about two weeks, which is more that enough time to trial these products and see how they work with your skin type.
I LOVED this skincare kit. The products work great together, they do what they're supposed to and I find that if you take your time applying them it feels very luxurious.
RATING





Available from LipstickRepublic.com.au for $79.00. Drop RepublicVIBs at the checkout for 10% off your total purchase.