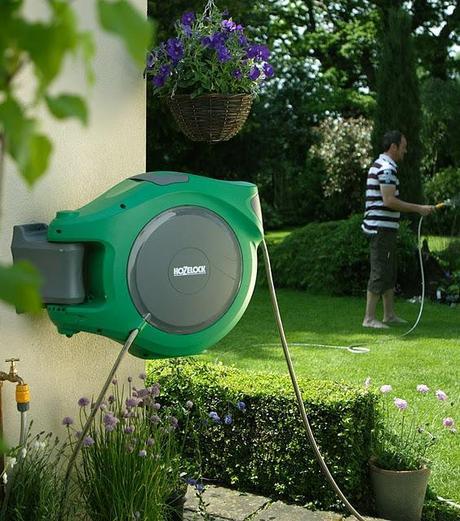 (Image courtesy of Hozelock)

Earlier in the year I was offered the chance to review the new Hozelock Autoreel and I immediately jumped at the chance to test it out and post my findings.  I'd been struggling with an old puppy-bitten coil hose that was far too short for my needs.  If it wasn't spraying water in the opposite direction to where I pointed it, it was a tangled mess equal to an unsolvable puzzle reminiscent of the famous Fifteen Puzzle.  Suffice to say that the offer of a new hose was more than welcome.
I opted to test out the 40 metre model, other models are available, as this would enable me to water both front and back gardens as well as washing the cars at the front of the home.  Something that was impossible with my old hose.  When the large box arrived I found that unpacking it and getting it in a position to use in the garden was very simple.  I'm in no way practical when it comes to putting together products that come in a kit form and I was relieved to simply remove the product from the box, attach it to the tap and get watering.  The Autoreel is primed and ready to be attached to a wall in the garden and although I'm yet to do this I have seen previous hozelock models work excellently when used in this way.
The hose itself is great and I have encountered no problems so far in using it.  The head enables you to produce fine mists, showers and direct sprays and the autoreel function, where the hose retracts in to the casing, has worked perfectly although it can be a little keen on doing so when you haven't locked it in place correctly by allowing a little slack after taking enough hose from the coil.  The hose is durable and of good quality and I'd imagine that a puncture is unlikely with ordinary garden use, bar a slip with a sharp blade or mower.  I have three dogs, all now through the puppy stage, but I'm yet to find any damage caused through chewing.
One thing I didn't fully account for when asking for the 40 metre hose, and as far as I can see one of only two downsides in my situation, is its size.  As an urban gardener the hose casing swamps my small garden.  I can see that this hose would work perfectly in a larger garden and I look forward to moving it with me when I get my next home, however, right now it measures half the width of the area in which my tap is positioned when it is not positioned tight to the wall.  If I were to choose again one of the smaller models would probably be as effective, although I wouldn't be able to reach the front garden.  The second criticism I have, based on personal taste alone, is the colour of the casing.  My lower garden has white walls and is fully viewable from my patio doors, which open out from my living room.  As you can imagine the bright green casing, if attached to the wall, is highly visible and fights for attention in an otherwise predominantly white space.  These two points combined led to me using the hose as a portable tool that I can move in the garden and store it away out of sight when not in use if needed.
In conclusion, the hose does everything it sets out to do.  It provides great functionality, durability and as yet it has not failed on any front.  I would advise people thinking of buying the hose to take in to account its dimensions and how it would fit in their space and again the issue of colour may prove problematic in some gardens.  Other than this it makes for a fantastic piece of garden kit that does the job very well.