Anybody who has read a post from Grinding Gears before will know that we love, love, love finding high quality mountain bike products at affordable prices. Perhaps that's why we were so intrigued by the Charge Spoon, especially in relation to its price!
Now for a little bit of comparison, my previous saddle was the Crank Brothers Iodine 3, that has an RRP of £60 but I managed to wangle it for a fraction of that cost. So, considering you can get the Charge Spoon for just £25 with no discounts that's a hell of a step down in price, but that doesn't mean the quality is lower!
Our Charge Spoon Review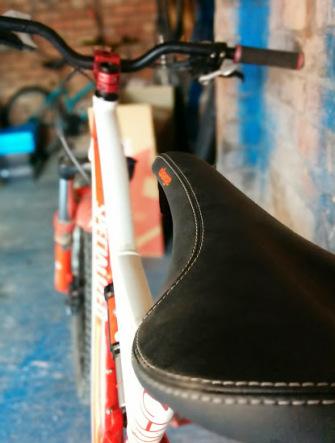 Just by looking at it you can tell this mountain bike saddle is brilliantly designed. It is thin enough to not get in the way when wildly stamping down on the pedals and it is easy enough to throw yourself over the back wheel on a downhill section, yet it is comfortable enough to sit on for hours on end without complaining about a sore arse!
Compared to my old Iodine 3 saddle the Spoon is miles better. For a start, it is much more comfortable for long hours of riding and it just feels more natural to sit on. It is amazing the difference a nice saddle will have on the rest of your riding, I was impressed I put up with the Iodine for so long!
Sure, I could bore you to death here about which one is heavier, what kind of technology is involved and the benefits of chrome vs titanium rails but the straight and fast is, the Charge Spoon is awesome.
An Honest Conclusion
If you are looking for a saddle that is comfortable, durable and – crucially – affordable then the Charge Spoon should definitely be your go to. Lots of the people I ride with use it and swear by it, but if that isn't enough then how about the fact that it has made its way across every category of mountain biking there is? You'll see this saddle on everything from XC bikes to full blown DH rigs. It appears that this saddle knows no bounds.
Basically, it is a flipping good saddle for a hell of a low cost. And you can take that to the bank!