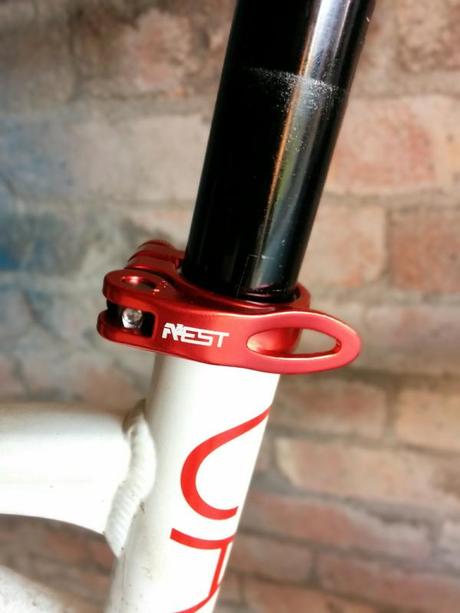 Now I'm not one to go raving about how much weight you can save or drone endlessly on about a rather dull piece of kit – like a seatpost clamp. However, I do love keeping to the red and white color scheme on my bike and I LOVE saving money.
At just £3 that's exactly what this AEST seatpost clamp is.
AEST Seapost Clamp
Does it do what its supposed to? Yes. Is it red and shiny? Yes. Did it cost less than a fiver? Yes. Would I buy it again? Yes.
So far, the AEST seatpost clamp does exactly what it says on the tin. It holds my seatpost exactly where I want it, is easy to open and close and doesn't make any annoying squeaky noises, which is good.
Surprisingly, at 38g it is light enough to keep the weight wienies at bay and its spent enough time being used on my bike to pass a durability test – I need to get a dropper…
I'd buy this product again in a heartbeat, and at just £3 I can afford to if things do go wrong! If you want to save your cash so you can splash out on better things, then I definitely recommend getting these clamps from AEST!
Lerway® 34.9mm Road Bike MTB Cycling Bicycle Bike Quick Release QR Seat Post Clamp – Red