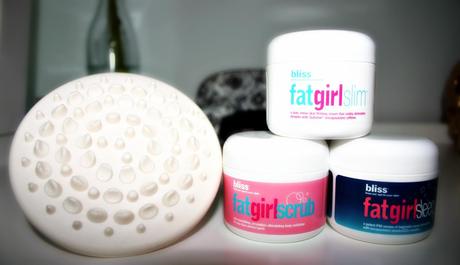 I've never been fully exposed to this product before so naturally, I'm intrigued by it. Now, before passing judgment and leaving a "you don't need this" comment, let me explain. While yes I am built smaller, that doesn't exactly mean I'm in tip top shape or that my genetically bumpy legs are all of a sudden going to smooth out on their own. Over the last 7 years I have made a tremendous change in my life to be more active and to consume a healthy diet.
 I do this for a number of reasons.
a-to live an energetic an healthy lifestyle and feel healthy from the inside out!
b- to improve my skin (which was awful as a teen! Seriously) 
And...
c- preparing my body now for later years in life. I want to be a strong healthy old lady.
Exercise and eating delicious/nutritious meals simply makes me a much happier me. I ALWAYS enjoy my treats. I don't hold back from having something sweet each day and I always do my best to never go overboard on things that are unneeded such as sugars, salty foods, and eating out could be cut back on for sure. That being said, I am still what the kids would call "Skinny Fat". Nothing wrong with that because I love myself and I love the life I live and I know I truly take care of myself BUT can you blame me for wanting to try something to see if it helps alleviate some unwanted bumps?? 
Come one meow. Thanks for letting me justify.
Grab your Fat Girl Slim Starter kit HERE!
I first used the scrub and the regular moisturizer today on my legs. Massaging your legs just NEEDS to happen more often (as well as elevating your legs). Get the blood moving is always a good idea! The scrub feels great and has a great scent to it. I used the scrubber in the shower and it was surprisingly soft yet applied pressure. Tonight before bed I plan on applying the Fat Girl Slim Sleep moisturizer to the same area's on my leg. I'll follow this process for as long as the product lasts me and I'll let you know if I see any changes. :)
p.s. the regular moisturizer you apply twice a day has an intense sensation to it. Not irritating what so ever just... intense. 
PRODUCT BREAK DOWN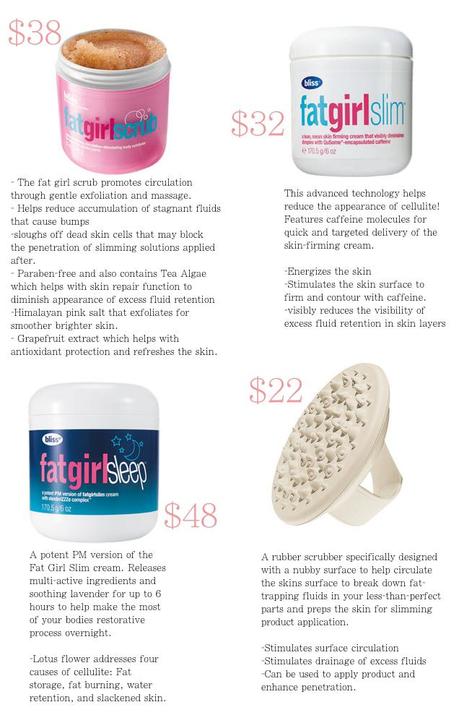 1- Bliss Fat Girl Slim Scrub
2- Bliss Fat Girl Slim Cream
3- Bliss Slim Fat Girl Slim PM Cream
4- Bliss Rubber Stimulator