Today, I want you all to meet my Volume Friends!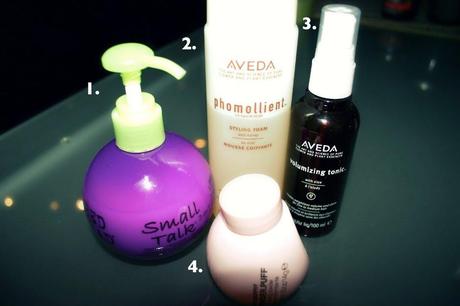 1. Small Talk from Bed Head - This products is a 3 in 1! 1-adds shine and controls frizz, 2- Acts as a thermal protectant and energizes hair and 3- creates a lot of body with a light to medium manageable hold. Plus, it smells great!
2. Phomollient from Aveda - I love this product. I pump to pumps into the palm of my hand and massage throughout my hair. Gives amazing weightless volume! Has about a medium hold.
3. Volumizing Tonic from Aveda - Somedays I use this over the phomollient and Small Talk because it has one other dynamic... along with organic aloe and wheat amino acids that helps build amazing body and shine, it also has essential oils to uplift your sense. Yes please.
4. Keven Murphy's Powder Puff - INSTANT BEDROOM HAIR. Who doesn't like that look?? Right after I had my color melt and extensions created last September (sadly I don't have them anymore) I snagged up some of this after seeing my hair goddess apply it at the roots of my hair and massaging it in. My hair had an amazing volume without the damage or, lets be real, tackiness of back combing. I am addicted to this product.
In the next hair post I create, I will share with you my favorite "Silky" items that help combat frizz and leave your hair feeling shiny as well as a certain dry shampoo that I just can't keep my hands off of! Until then, I wanted to share photo's with you of my favorite salon in SLC Utah where I get my locks taken care of, Ulysses.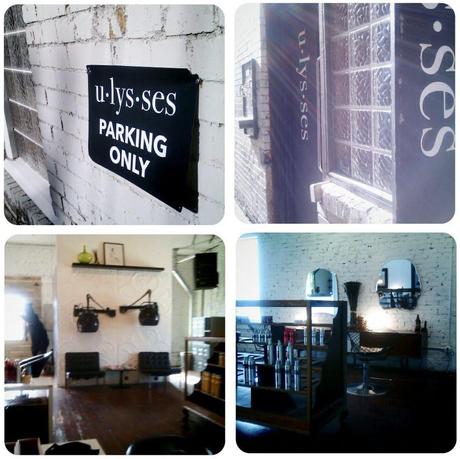 Sigh... I miss my long awesome party hair so much.