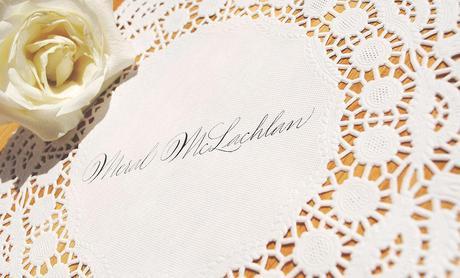 Place name doilies with cal­lig­ra­phy from www.Calligraphy-for-Weddings.com
I try and make sure all the pho­tog­ra­phy I show on my cal­lig­ra­phy web­site and blog is up to a decent stan­dard: for a wed­ding prod­uct which is all about looks, pho­tog­ra­phy is really impor­tant. I've seen plenty of wed­ding sup­plier web­sites and face­book pages where the prod­uct pho­tog­ra­phy lets the site down.
I don't have any spe­cial equip­ment for pho­tograph­ing my work, so I thought I'd share a very hon­est view of my usual setup! Scuse the paws… they're ban­ished from the room when I'm pho­tograph­ing orders; only allowed in for samples!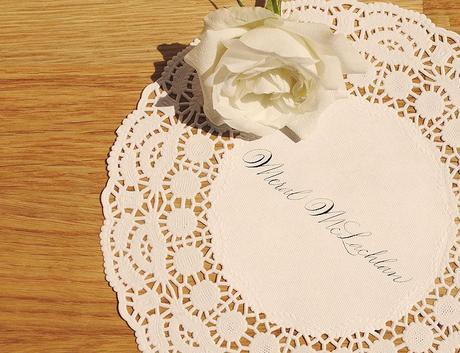 A fin­ished wed­ding cal­lig­ra­phy pho­to­graph: cropped, expo­sure tweaked and resized for the web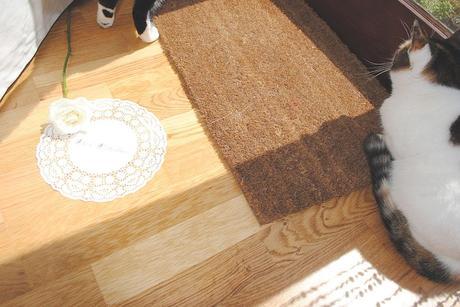 I zoomed out a lit­tle to show you the lim­ited spot of sun­shine I was using, and my two lit­tle assistants…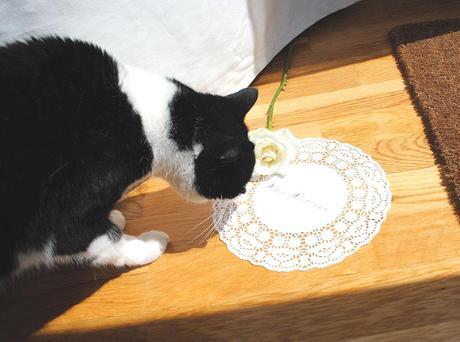 Cats are known for their curios­ity, which is why I don't let them any­where near my real orders — this was only a sam­ple for my web­site and blog!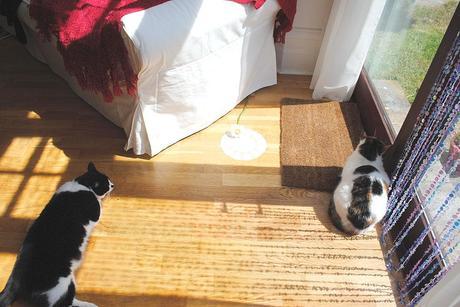 The moral of the story? The impor­tant thing is the light­ing: find some sun­shine and make the most of it. I often use a mount­board or two as back­grounds, or a white cof­fee table or pretty gift wrap too.
Wed­ding prod­uct pho­tog­ra­phy
DIY

: 5 tips
Always pho­to­graph your wed­ding prod­ucts in sun­light, either out­side or in a patch of sun­shine by a big window
Use a decent cam­era. I have a Nikon

SLR

— the cheap­est one I could get, but it's miles bet­ter than a com­pact camera
Edit your images before you upload them. Even when I share quick snaps from my iPhone on my cal­lig­ra­phy face­book page, I lighten them a bit before I share them. Pho­tos for my web­site and blog are edited in Pho­to­shop — just to make my cal­lig­ra­phy look as good on screen as it does in real life
Cull any poor images. Only share pho­tos which look good. If you've taken 10 pho­tos of a wed­ding cake and they're all dark, fuzzy or have an ash­tray in the back­ground you didn't see at the time — shar­ing the pic­tures online could do your busi­ness more harm than good.
Acces­sorise your prod­uct pic­tures: flow­ers always lift an image, as do pretty back­grounds which don't dis­tract from the prod­uct you're sharing.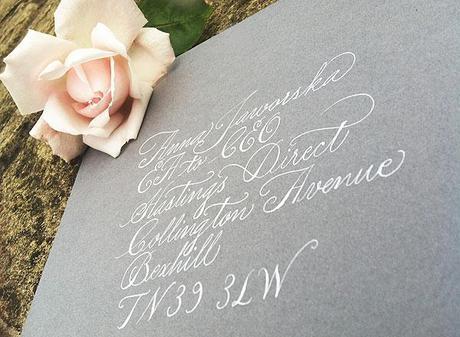 Taken on my Mum and Dad's patio with one of their roses!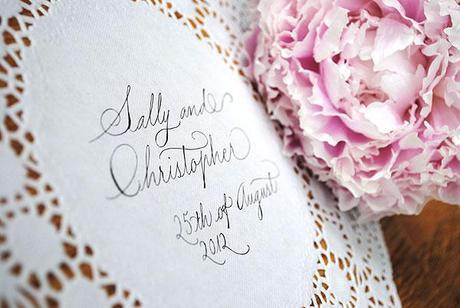 Another wed­ding doily, this time pho­tographed very close up (ear on the floor) with a peony along­side, light­ened and sharp­ened in Photoshop
Do you have a sim­i­lar setup for your wed­ding prod­uct pho­tog­ra­phy? I'd love to hear your tips as well — clearly I don't know it all but I think I do ok… the more tips we can share here though, the better!
Claire x
www.Calligraphy-for-Weddings.com