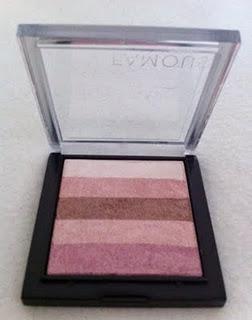 Famous by Sue Moxley Shimmer Brick
Never Too Broke For Beauty is always on the look out for the ultimate time saving products that make you look as fabulous as the rich and famous but without the associated price tag. If you want to create the illusion of glamour whilst having the secret satisfaction of knowing you only paid £6.50 for it look no further that June's Product of the Month Famous by Sue Moxley's Shimmer Brick.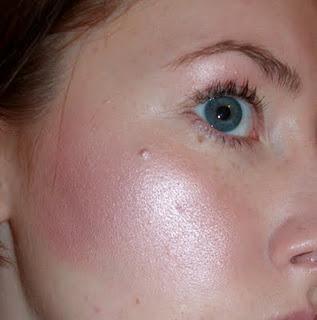 Shimmerbrick applied to cheeks and eyes
This diamond of a product is available from Superdrug and comes in a variety of shades that would compliment a multitude of skin tones. The shimmer brick is of a wonderful quality, easy to apply and blend, is affordable and what's more it is the ultimate time saving product. On a busy morning you can apply this as a blusher, eye shadow and a highlighter to give you a healthy glow in one fast application. Plus ever since I have been using this product I have loads of compliments about how well I look and enquiries about what product I'm wearing.
This is the ultimate product to bring a touch of glamour to the dullest of days!
Famous By Sue Moxley Shimmer Brick ReviewProduct:
A versatile, flattering shimmer brick that can be used as a blush, highlighter and eyeshadow.
Longevity:
Once applied lasts a good few hours, does require touching up at least once during a working day. Once purchased lasts for months and can be used a highlighter, blush and eye shadow.
Affordable:
A bargain £6.50 and great value for money.
Easy to use:
Very, smooth and easy application.
Availability:
Available from Superdrug both in stores and online.
The Verdict: 9/10 – A versatile, affordable must have.