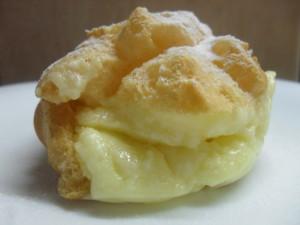 Irreplaceable dessert for any occasion, so tempting and delicious, crusty doughnuts and fluffy yellowish cream. Sometimes these doughnuts won't come out so great. It is very important for the dough that the eggs are fresh and oven not too hot while you are baking them. This cream I have made is very soft and irresistible. I have seen creams that are really firm so the taste turns out differently. I can say that these Princess Doughnuts are the best!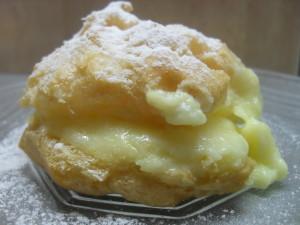 Ingredients for doughnuts
250 ml water

100 g butter

150 g flour

a pinch of salt

5 eggs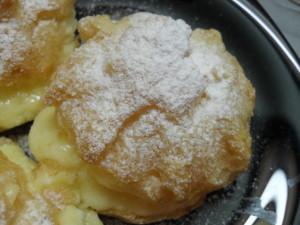 Method to make doughnuts
Boil the water with butter and salt, add the flour and stir it until the dough becomes smooth. Cool it down a little bit and add egg, stir it in the dough than add all the other eggs one by one. Cover the baking pan with baking paper and put the dough in it in forms of little balls or little piles. Bake these doughnuts on 400 F degrees for 20 minutes, open the oven slowly and leave the doughnuts in to cool down along with the oven. Cut every doughnut in half and cream it.
You can choose the cream but I can recommend this kind for it's fluffiness and tastefulness.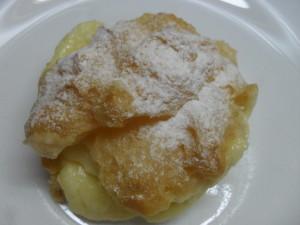 Make the cream
6 egg yolks mix with 100 g of sugar, add 50 g of flour and 4 dl (2 cups) of milk and cook it until it gets firm enough. Mix the 6 egg whites with 60 g of sugar and add it slowly in the yellowish cream and slowly stir it in so it will become light and fluffy.
…And, trust me, these are not going to be there for a long time…