PRIMAL KITCHEN® Launches Frozen Bowl & Skillet Meals.  Launching at retailers in Spring 2020, PRIMAL KITCHEN

Bowl and Skillet Meals bring a new level of premium, real-ingredient meals to the frozen aisle.
Meeting the strict PRIMAL KITCHEN nutritional standards, each entrée is made with real, high-quality ingredients like cage-free dark meat chicken or grass-fed, pasture-raised beef (raised without antibiotics or hormones) and a variety of vegetables.
Each of the six new frozen items from PRIMAL KITCHEN is paleo-friendly, Certified Gluten-Free, Whole30 Approved® and made without  grains, soy, dairy, refined sugar, or artificial ingredients.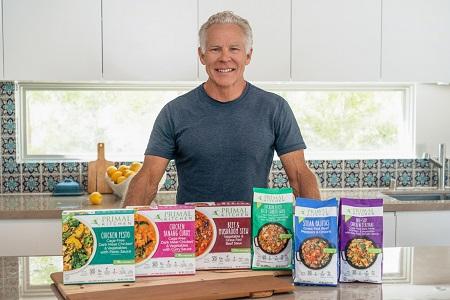 "I frequently hear that finding an easy, flavorful, real-food meal solution is tough," says Mark Sisson, founder of PRIMAL KITCHEN. "I'm confident that the frozen bowl and skillet meals will be a great solution for busy families and health-minded individuals alike.
No sacrificing flavor and no offensive ingredients allowed—just simple, real meals that are uncompromisingly delicious with every single bite."
PRIMAL KITCHEN bowls make single-serve simple with three delicious flavors that are inspired by homestyle recipes from the Primal community and are ready in minutes.
Try the keto-friendly Chicken Pesto riced cauliflower bowl, hearty Beef and Mushroom bowl, or founder Mark Sisson's favorite, kicky Chicken Panang Curry.
PRIMAL KITCHEN Skillet Meals are multi-serve meals that take minutes to prepare on the stovetop. To sizzle into satisfaction with at least 18g of protein per serving, just add avocado oil, and choose from spicy Steak Fajitas, No-Soy Chicken Teriyaki, or Chicken Fried Riced Cauliflower.
Mark Sisson, New York Times bestselling author, media personality, ex-endurance athlete (5th place USA Marathon Championship, 4th place Hawaii Ironman finish) founded the brand in 2015.
He has been educating the world on nutrition and the benefits of fat and protein for the last decade via his blog, MarksDailyApple.com.
PRIMAL KITCHEN® Launches Frozen Bowl & Skillet Meals
With the launch of the brand, Mark Sisson delivers on his mission to create uncompromisingly delicious condiments, sauces, cooking oils, collagen peptides and pantry staples that are made with fats. We love and clean ingredients, and contain no dairy, gluten, grain, refined sugar or soy.