~  PRICELINE MAKE-UP BAG  ~




Gift With - (Out?) Purchase!


Join in on the discussion over on Youtube! :)


So, here is the story

... 

basically I explain it all in my un-bagging video above however I will 

also give you a bit of a run down here.  So you are probably wondering 




why I have titled this as a 'Gift With - (Out?) Purchase!' ?? Well let me explain. It is all




innocent I swear! 




So nearing toward the end or it may have actually been the very last day of this promotion




in store. My husband, kids and I were out on the weekend getting some groceries and a




few other odds and ends around our local little shopping centre, and as you do when you




just want to get home late on a Sunday arvo with the kids beginning to get tired and




 cranky we decided to split up. My son (2yrs) and I went to Coles and the hubby and my  




daughter (4yrs) went to Priceline for totally unrelated fun makeup things!




So basically my husband saw the gift bag sitting on the shelf, had a look at it and decided

on impulse to surprise me with it. Then had second thoughts and wanted me to be able to

come in and pick out the products I wanted just in case he picked some things I already

had or didn't like. So after speaking to the lady in the store, she explained it was their last

bag and that he could just take it as they were about to close and were apparently just 

trying to get rid of it! 0_o

Yippeeeee! Thank you lady from Priceline! You just made one very tired and worn out 

mummy very, very happy!! :)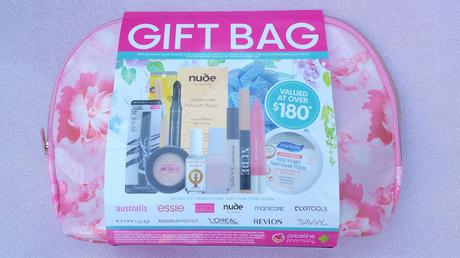 Each year the gift bags that Priceline offer differ slightly. You can check out last year's makeup giftwith purchase bag here. This years bag is about the same size as last years and like last years bag, itis a lovely girlie pink color with roses and a gold zip. I really like it, however last years still remainsmy favorite thus far.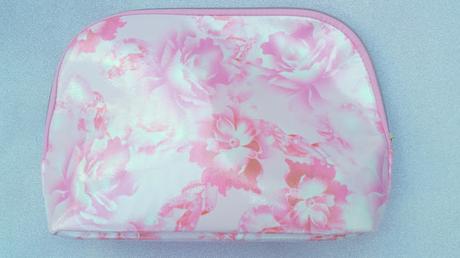 Sneak peek inside the bag!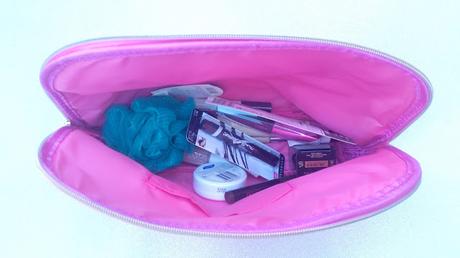 ~ Base Products! 
 ~
Nude By Nature Undercover Airbrush Mineral Primer 50ml (Full Size) $29.95
L'Oreal Paris Base Magique Transforming Smoothing Primer(Sample) Full Size RRP - $29.95
Physicians Formula Concealer Twins(Full Size) $19.95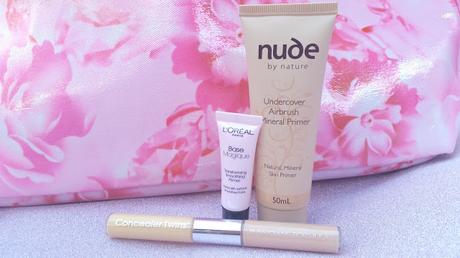 ~ Eyes! ~
L'Oreal Paris Mega Volume Manga MascaraFull Size RRP $21.95
Maybelline New York Master Graphic Liquid LinerFull Size RRP $14.95
Australis Metallix Eyeshadow 'Guns & Rose Petals'Full Size RRP $9.49
Models Prefer Nude Eyeshadow PencilFull Size RRP $9.99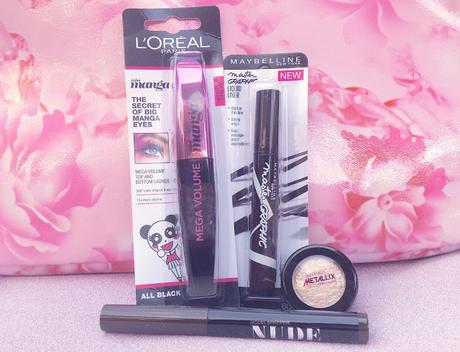 ~ Nails! ~
Essie Nail Lacquer in 'Lady Like'Full Size RRP $16.95
Essie Clear Nail Lacquer Full Size Mini RRP $16.95 for full size
Manicare Moisturising Nail Polish Remover PadsFull Size RRP $4.99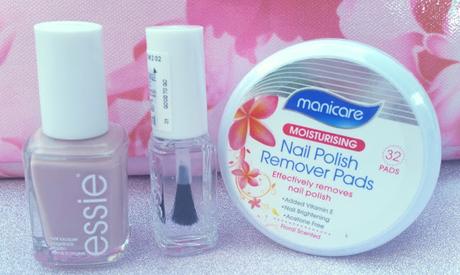 ~ Brows! Lips! Perfume! (Oh My!) ~
Savvy Clear Brow Gel
(Full Size) RRP $4.99
Revlon Matte Balm in 'Elusive Irresistible' #205
(Full Size) RRP $17.95
Versace Crystal Noir Eau De Toilette
5ml (Sample) Full Size RRP $80 per 30ml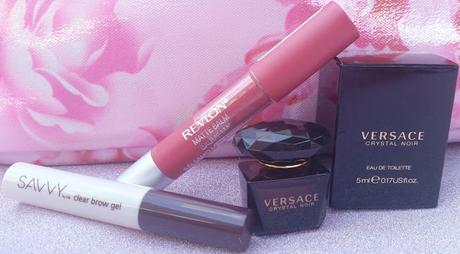 ~ Etc! ~
EcoTools Mini Sponge
Full Size RRP $4.99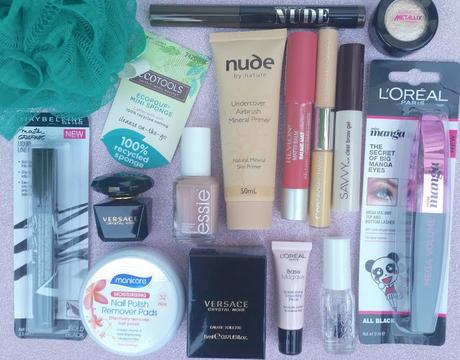 Did you pick up Priceline's beauty cosmetic gift bag this time around?
Which of Priceline's GWP do you get most excited about?

Missed my last posts?
Match Perfection Makeup! | Newa Anti-Ageing! | Magnif'Eyes Cream Shadow Pens!
NEW! From Rimmel London! | Schkinny Maninny Detox! | Vitamin C24 | Philosophy Skincare!
Related Posts!
Coast To Coast Skincare! | Paula's Choice Skincare Routine!Perfume Collection! | Room Tour! | Adore Beauty Haul! | My Makeup Collection!
Let's follow each other! 
Facebook | Twitter | Youtube | Instagram | Pinterest | Bloglovin' | Google+
*Not Sponsored!