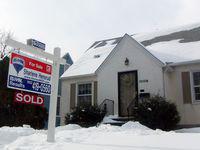 As Twin Cities rents go up in in response to high demand and the lowest vacancy rates in 10 years some renters are starting to wonder if it finally makes more sense to buy.
While there are many factors involved in such a decision, if it boils down to whether buying makes financial sense given current market conditions a good gauge is the price-to-rent ratio.
The price-to-rent ratio is the cost of the median home divided by a year's median rent. Median price of a home in the 13-county Minneapolis-St. Paul area was $150,000 at the end of 2011. Median rent was $1,100/month or $13,200 annually. Dividing $150,000 by $13,200 gives a ratio of 11.36.
So what does that mean?  The classic rule of thumb is that when the ratio is over 20 you should rent... 15-20 you could go either way... under 15 it makes more sense to buy. At the peak of the bubble the ratio was 21.69... long-term average from 1989 to 2003 was 13.48. 
At 11.36 the price-to-rent ratio is below both the peak and the long-term average, which seems to tip the scale towards buying vs renting.
Sharlene Hensrud, RE/MAX Results - Minneapolis - St. Paul Buyer's Agent
RELATED POSTS