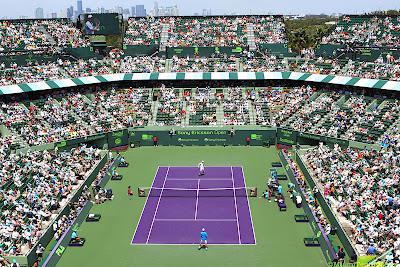 To view the official men's draw at the Sony Ericsson Open click here.
Djokovic's Quarter:
I really don't see anyone in this section who will threaten Djokovic's chances of making it to the semifinals. Matches to watch in this section include possible second round clashes of Djokovic vs. Baghdatis, Tomic vs. Ferrer, and a possible fourth round match between Del Potro and Ferrer. I'm picking Djokovic and Del Potro to play in the quarterfinals with Djokovic making it through to the next round.
Federer's Quarter:
Federer should make it through his quarter pretty easily, but there are a few interesting potential match-ups to watch including Federer vs. Harrison in the second round and Federer vs. Roddick in the third round. I know I'll also be watching the first round match between Jeremy Chardy and Canadian qualifier Frank Dancevic. Come on Frank! I'm picking Roger to play in the quarterfinals against...I don't even know...maybe Mardy Fish? or Verdasco? Let's just say that I don't think Federer will have any trouble beating whichever opponent he meets there.
Murray's Quarter:
This is probably the most interesting quarter because I don't think it's a guarantee that Murray will make it through to the semis. It won't be surprising if he does, but I don't necessarily think it's going to be an easy run for Andy. Interesting matches in this section could include Berdych vs. Gonzalez and Nalbandian vs. Tipsarevic in the second round, Raonic vs. Murray in the third round, and any matches that Gonzalez is in as this is the last tournament he'll play before his retirement. I'm going to pick Murray and Berdych to make it to the quarters with Murray coming through to win that match.
Nadal's Quarter:
And last but not least we've got Rafa's quarter. Matches to watch in this section of the draw include Isner vs. Davydenko in the second round and Tsonga vs. Isner in the fourth round. I'm picking Nadal and Isner to play against each other in the quarterfinals with Nadal making it through to the semis.
Semifinal predictions: Djokovic vs. Federer, Murray vs. Nadal
Final prediction: Federer defeats Nadal
Photo Credit: Miami Tennis News