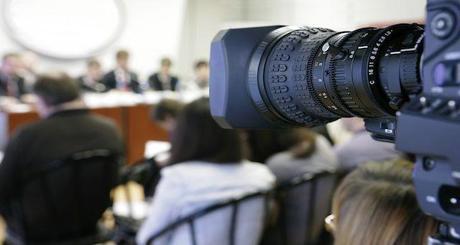 June 26, 2014
0

Email This Post

Print This Post
Prevent the Floating Head Syndrome in Conference Videos
Did you invite a ghost to speak at your last conference?
Probably not, but a ghost or two might have made an appearance on the event video you developed to capture your conference speakers and market your brand.
It's called the Floating Head syndrome, according to the lighting, audio, staging and video production experts at MiMedia Productions. Don't fret: You don't have to call in an exorcist, but you do need to approach your next staged event differently.
"It's quite common to use pipe and drape as a backdrop for the stage at most conferences or events. Typically, black drape is chosen simply because it tends to blend well with most hotel ballrooms or venues. This may present a clean look and can be a neutral backdrop for most screen presentations, but if your speakers are wearing dark suits – watch out!" the video event pros pointed out in a recent newsletter.
Many speakers favor to wear black, navy, charcoal or another dark color for impact. However, set against a black backdrop, these colors fade into the black draping and — poof! — you have a floating head speaking on video.
MiMedia Productions explains that this is because black is difficult to light and doesn't create much contrast or depth perception. If you video your conference, chances are you'll have the illusion that your presenter is bodiless, floating back and forth across the stage.
Fortunately, the solution is simple, and the budget is just right for a small-to-midsize marketer: select a light gray drape instead. MiMedia Productions reports that gray is easier to light than black or white draping, displays true colors, provides contrast and offers depth perception.
Now you can save that floating head for your Halloween party instead!
In the meantime, you can work on making event videos even higher quality. We'll teach you how in our post, "Five Essential Elements of Video Optimization," and for lessons about how to buy video equipment, select how-to and other video themes, and curate content, read "Video Tips Any Business Can Use."