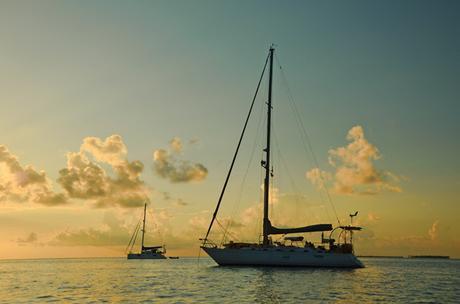 If I'm making fruitcake, it's a sure sign we have a passage ahead.
Our next passage isn't a big one. Weather willing we'll leave in less than a week to sail from Maldives to Chagos, about three days and two nights underway. But it's crossing a bigger threshold than the jump between island groups, because once in Chagos, there's…nothing. Well, nothing but empty atolls with the ruins of former structures, a whole lot of coconut crabs, and a dozen or so cruising boats hanging out at the discretion of the British Indian Ocean Territory officials.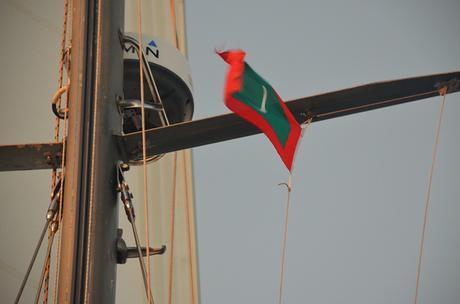 the edge of our Maldives courtesy flag is starting to fray
My tradition of making fruitcake for a passage stems from a meetup in the early days of 2012. We were sailing up the east coast of Australia from Sydney to Brisbane, and our first was in Pittwater Bay: a beautiful harbor with the fingers of rivers and creeks that wind through park reserves and bush land, a peaceful anchorage around every bend. That's appealing enough, but the real draw for us was a single evening to intersect for an evening with Mike, Alisa, and their two sons on Galactic–another boating family we'd only known via email and our respective blogs–as they headed south, and we headed north. We stayed up into the night in Galactic's cockpit, sharing stories and dreams while nibbling on delicious fruitcake. (Tangent: in the annals of "it's a small cruising world", we made excellent memories in the South Pacific with the Reveil family on Galactic's one and only sister ship, Silver Lining.)
At this point, the Americans are all thinking: riiiiight, delicious and fruitcake don't belong in the same sentence! Holiday bricks-by-mail pocked with "fruit" in colors unknown to nature are rarely described as delicious back home. Well, believe it. And if you don't believe it yet, preparing this homemade version will convince you otherwise.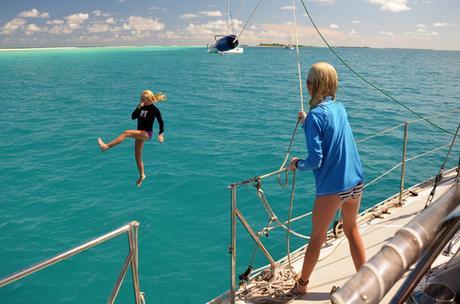 the spin pole swing!
Alisa told me that she liked to make a fruitcake before Galactic embarks on a passage. Because aside being a wonderful treat on a night watch, it keeps well for weeks stored in an airtight container. This is a tradition I have happily adopted.
It's also a tradition worth sharing, but sometimes, I need a nudge to appreciate when there's a gem to pass along. That nudge came from Jill Cross, who lives on Yahtzee with her family. She commented on Totem's Facebook page when I mentioned fruitcake in the works for one of our passages earlier this year. Jill and Andy have been cruising Puget Sound waters for a few years, adding two junior crew members – Porter and Magnus (I love those names!) – along the way. With bigger passages ahead this year, she's keen to add it to the repertoire. She and Andy share advetures on their blog and Yahtzee's Facebook page, which regularly make me homesick for the Salish Sea. (Tangent: in the further annals of "it's a small cruising world", we logged thousands of miles in company with the Cross' boat while cruising in Mexico and French Polynesia with the previous owners!)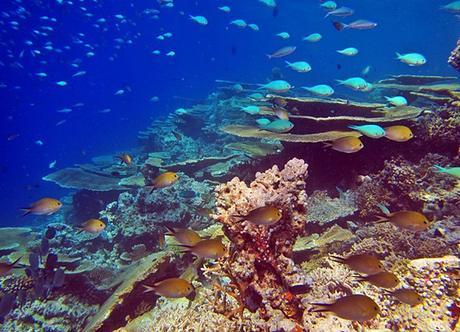 a moment of reef zen. you're welcome
A side bonus of the shorter passage is there's sure to be fruitcake left at the end of it. I'm already imagining swinging from the hammock on our aft deck, peacefully stargazing, and indulging in this nighttime treat.
Galactic's Fruitcake
125g (a generous half cup) butter
1 cup brown sugar (I've been known to make do with white)
1Tbsp marmalade (we didn't have any. I added a bit of jam and grated some orange peel in)
1 cup real fruit juice (try apple, orange, pineapple, or whatever suits)
3 cups dried fruit (mix is best, but sometimes variety is a luxury: try raisins, dates, apricots, citrus, cranberries, or whatever you like)
Rum to soak fruit (you could use brandy, too)
2 tsp baking soda
1 tsp cinnamon
1 tsp nutmeg (I just grate in a bunch)
2 large eggs
1 cup plain flour
1 cup self-rising flour (or, plain plus 1+ tsp baking powder and a pinch of salt)
Parchment paper to line your pan
Starting at

least

two days ahead of baking, marinate dried fruit in booze. Two days is the minimum, but you could let it go much longer- I've soaked fruit for a couple of weeks when I remember. The longer it sits, the more the fruit absorbs. Mmmmm, rum… oh, and that's why, NO FRUITCAKE PICTURES- just, beautiful moments from Maldives. The fruit, it is soaking!
Line cake pan with lots baking paper. A 10" / 22 cm round cake pan works well; so do spring form cake tins. Use three layers on the bottom, two on the sides, and cut one to fit on top.
Put butter, brown sugar, marmalade, fruit juice and marinated fruit into a big pot, and bring to a boil.
Once boiling, add baking soda, cinnamon and nutmeg. WARNING: this will boil like lava! Mix well.
Cool for five minutes, and then add eggs (temper if necessary) and mix.
Add flour(s) and baking powder if substituting for self-raising, and mix well.
Pour into cake pan, and bake for 45 minutes or more. Alisa says 175 C, but if your boat oven is like mine, you just crank it up and hope for the best.
Alisa removes the baking paper at about 45 minutes to make the top look nicer. I confess to frequently skipping the top layer; it's usually just me on night watch who looks at it! It will look like a cake, and respond to toothpick type tests for doneness.
It would be great served with custard (flip squares upside down on a dish), but I think it's always been finger-food nibbling on Totem. Alisa has kept it for up to 6 weeks in an airtight container, but ours never lasts that long!
Fruitcake lovers know we appreciate it when you read this on Sailfeed. Thank you!