Written by Ashwin Raja.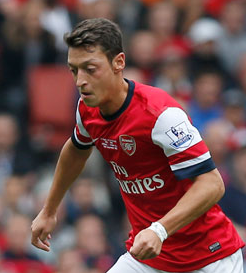 I am happy to say, after this week's round of matches, that the Premier League the world knows and loves for its unparalleled unpredictability, excitement and drama, is well and truly back. I must say, that I in concordance with many a seasoned football fan was disappointed with the way the season kicked off. Lots of drab and low-scoring affairs littered the first few weeks of the season. It was a coup of sorts for the Premier League, which has always been known to get stuck right in from the off.
The level of intensity and excitement in the past week's matches were certainly what the doctor ordered and Manchester City's humbling of the old enemy United, certainly was the earth-shattering result the Premier League kicks up every now and then, and the one that fans were so eager to see. A few interesting patterns seemed to emerge at the conclusion of this gameweek, if not having merely confirmed passing observations. Liverpool, demonstrating again, the inconsistency that has dogged them in their pursuit of the Champions League in seasons past. Chelsea, though managing to beat Fulham, looked well below par and are perhaps victims of the Mourinho factor that they crave so much. Arsenal, on the other hand are continuing their rich vein of form, thanks in no small part to the mercurial Mesut Ozil and the hot streak that Aaron Ramsey is currently in. With their immediate rivals going through a transition of sorts with new managers and the ensuing playing styles, the title is definitely there for the taking as far as Arsenal are concerned.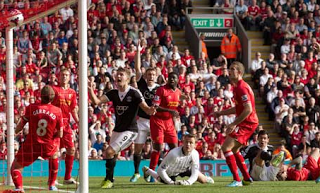 Liverpool - Southampton
Following an exciting draw in midweek at the Liberty Stadium, Liverpool looked to make amends and reaffirm their standing as league leaders on Saturday as they hosted Southampton at Anfield. From the very off, it was clear that Liverpool would struggle to find that creative spark in the center of the park, especially in the absence of Philippe Coutinho, who has been nothing short of spectacular since his 8.5 million pound move from Inter Milan in January.
Steven Gerrard came close on a couple of occasions with well-placed free kicks, but Artur Boruc was alive to the danger. New boy Victor Moses, making his Anfield debut had a rather subdued game, and despite making a few decent runs in behind the Saints' defense, could not make it count when he needed to. The other former Chelsea man in Liverpool's ranks, Daniel Sturridge was looking to make it 5 goals in 5 games, and in all honesty, simply lacked the service and the guile on the day to do that. He will however feel that Liverpool should have gotten more on the day, considering they had a valid penalty claim turned down.
The Southampton goal came off of a set-piece, and one that should have been dealt with especially with Brendan Rodgers fielding 4 center backs in defense. That decision in itself showed an inherent flaw in Rodgers' mentality, namely, fixing something that isn't broke. With Martin Kelly, Jose Enrique and Andre Wisdom all available for selection, it was a perplexing decision. Despite having given his reasons, it was definitely a sign that he is not afraid to experiment with the resources at his disposal and for a club that aims to be in the top 4 come next May, the experimentation must be kept to a minimum.
Chelsea - Fulham
Jose Mourinho's second coming at Stamford Bridge has hardly been perfect and Chelsea's play, hardly characteristic of Mourinho teams. What was characteristic about Chelsea's performance on Saturday, however, was their ability to grind out the result even when not at their best. Despite scoring two goals, Chelsea truly flattered to deceive. Similar to previous games, they were not as solid at the back and look vulnerable every now and then. Luckily enough, Fulham did not live up to their attacking potential and Chelsea were saved of any potential blushes. This represents a shift away from Mourinho's style of shutting up shop once his team has asserted a certain level of control on the game.
Another notable point was Juan Mata's continuing absence. Rather sardonically, it was his 'successor', Oscar, in the eyes of Mourinho who grabbed the first goal. Whether Mata, who was Chelsea's player of the year last season will be another hapless victim of Mourinho's whims and fantasies just like Iker Casillas at Real Madrid, remains to be seen. Personally, I think it would be a real shame if that were to happen. He is that one spark of creativity that can help Chelsea unlock the opposition's defence and no disrespect to Kevin de Bruyne, Andre Schurrle, Frank Lampard and the horde of other attacking mids that Chelsea have, he is head and shoulders above the competition. Being left out of the starting eleven cannot help his chances of securing a ticket to Spain's defence of the World Cup at Brazil in little under a year's time, especially when the competition for that number 10 position has not been more fierce.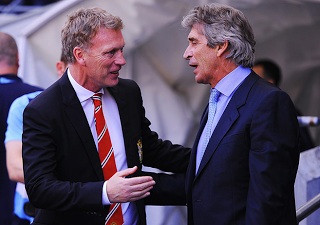 Manchester Derby
Leading up to the Manchester derby, much was made of how different the Manchester clubs, both under the stewardship of new managers were this season. David Moyes, certainly feeling the pressure after defeat to Liverpool and and a draw at Chelsea would have been eager to set things right. It would, on the other hand be Manuel Pellegrini's first big test so to speak as Manchester City boss. The general consensus before kick-off was that the game would be a close one, perhaps decided as such games so often are, by a bit of individual brilliance or a refereeing decision going one team's way.
Sergio Aguero ensured that all pre-match predictions were out the window with a superb close quarters finish early on in the first half. After that, the proverbial dam was released, and it was all City. Yaya Toure put in another terrific performance at the heart of the Blues' midfield and his return to such kind of form that was instrumental in them lifting the title 2 seasons ago, can only bode well. Alvaro Negredo who got the nod ahead of Edin Dzeko put in a fine performance and impressed with his workmanlike attitude that fetched him a couple of assists and almost a goal. The fact that they put up such a dominant display without David Silva will surely be a menacing sight to the other title contenders.
Take the case of the Reds. Apart from Wayne Rooney, who got a late consolation with a superb freekick to beat a diving Joe Hart, not a single player influenced the game in a way that a Manchester United player is expected to. Robin van Persie was a big miss, and there was a gaping hole in the final third. It just goes to reinforce the point that Manchester United's fate is closely, if not entirely dependent on his form. New acquisition Marouanne Fellaini had a quiet game to say the least, and Moyes' detractors will be quick to point that out. Such was his state of relative dormancy, it warrants the question as to whether Fellaini is even the kind of player really needed. At Everton, he made his name giving hell to defenders on set pieces, chipping in with a few goals now and then, and putting in a tackle or two, in addition to racking up the yellow cards and the hair on the top of his head. Some were bold enough as to liken him to Yaya Toure. Based on Sunday's evidence, it is foolish to even suggest comparison.
On paper, United have never had the strongest squad or even starting eleven in the last few seasons, including the ones they won the league in. Sure, they did and do have some big, big names in Robin van Persie and Wayne Rooney, but what made the difference was the 'Fergie factor'. The winning mentality that was instilled at the very core of the team by the wily old Scot was what gave them that identity and the confidence to go out and win. Each and every player believed he was a Champion, and that is what is currently missing. Moyes, undoubtedly is a terrific man manager and his ten years of Everton would never suggest otherwise, but the fact is, he's no Sir Alex Ferguson.
The United of old would rarely have been outclassed so much, but if they did, they would have dusted themselves and would have rearing to go immediately. That resilience is something they must hold on to if they are to aim for any sort of success this season. While those questions are slightly stifled from United's 1-0 victory over Liverpool in the Capital One Cup, the horizon is still very hazy for Manchester United fans.