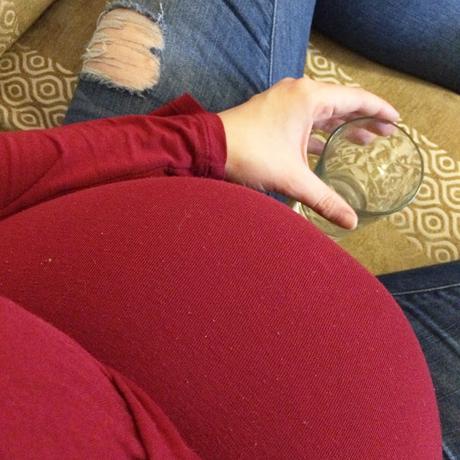 (sorry it's not a proper picture but I've been feeling crappy again!)
How far along? 
32 weeks and 4 days! With the excitement and business of Christmas I completely forgot I turned 32 weeks on boxing day so now I turn 33 weeks in just 2 days, eek!
Total weight gain/measurements: I don't weigh myself!
Maternity clothes: I recently got some new bits from Angel Maternity, this dress and this top and they are lovely! They also work well for breastfeeding too so I can wear them after she is here. 
Stretch marks?
 No new ones still! Woo!
Best moment this week:
 Lots of 
movement
 again, massive rolls and kicks they sometimes reeeeally hurt!
Miss anything? Not having a huge belly in the way and my old body!
Movement: All the time, yay!
Food cravings: LOVING cheese and grapes at the moment still, gone off sweet things again! 
Anything making you queasy or sick? A bit of nausea but I don't know what's causing it!
Gender: GIRL!!!
Labour signs:
 Nope!
Symptoms: 

Weeing lots, itchy skin, feeling dizzy, heartburn, tiredness, little bit of swelling.. my SPD seems 

to be

 better but I think that's because I am taking advantage of Warren being home and being lazy haha! I have been napping again as well as I get so tired, I'm so heavy I can barely move haha! I've also had that pain under my right rib which is horrible!
Belly button in or out? In but it is starting to pop out I think which it never did with Sienna! Weird!
Wedding rings on or off? Engagement ring on but it is getting tight and I had to take my other ring off my right hand as it was really really tight! :(
Happy or moody most of the time? Happy this week!
Looking forward to: Starting on the baby's room and packing my hospital bag!
Follow me: 

BlogLovin'

 // 

Twitter

 // 

Facebook

 // 

Google+

 // 

Pinterest

 // 

Instagram