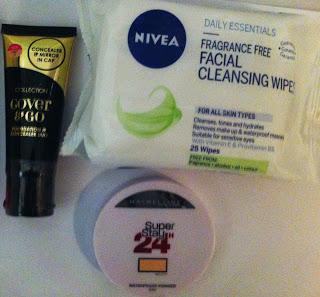 Hi guys! Sorry for the poor quality picture, took it with the a different camera as my usual was out of battery! I have a small haul of budget treats I picked up at my local drugstore. Its the day before pay day for me so these were just small things that I picked up whilst I was out at the shop. 
I have first on the left the Cover & Go foundation and concealer duo from Collection. I thought this products concept was very clever and well thought out. I think this product is great for people on the go who just want a quick touch up on their make up. It has a small mirror in the inside of the concealer cap which makes it easy to see where your applying the product on the go. It has nice packaging and its very compact. The concealer in this product had high expectations from me after the Lasting Perfection concealer. I hate to say this product is nowhere near the same level. It has a thinner consistency and doesn't cover as evenly. It is also a very small amount you receive, which is expected in the size of the container. The foundation I will use for light coverage, if I don't plan on going out for a long time. I personally would apply a powder on top of this foundation as the finish is dewy and I feel a powder would limit shine. Two applications of this foundation would provide good coverage, although I find this product very similar to Dream Fresh BB Cream.
Second I have the Maybelline 24 Hour Superstay Powder in Ivory. This product retails at £4.99 just now as an introductory price so I had to pick it up. I had hopes that this product would be similar to Stay Matte by Rimmell. I have yet to test this product on a full day out, but so far I like it. The powder is finely milled and is not "cakey" on your face. The product also has benefits as it is waterproof, sweat proof (yuck I know!) and moisture proof! Once I have given this product a day test, I will review it fully and let you know how I get on. 
Nivea Facial Cleansing wipes for all skin types, are my last purchase in this small haul. These don't need much explaining I reckon. I use these wipes to remove my make up after college and before bed. These wipes are not harsh on my skin, and leave my skin feeling fresh and non irritated. I normally buy the oily skin version of these wipes but my skin has became particularly dry in areas so I thought I'd give these a shot!
I'll have a shopping haul tomorrow, as it's payday! YAY!
Thanks for reading guys,

x