After my quandry about whether or not to have an engagement shoot, still somewhat undecided, we took the plunge and booked a session with the fabulous Matt Ethan (featured here on English-Wedding not so long ago). Matt's photographs are everything I hope mine will be one day: effortless, beautiful, simple and reportage with a slight film-style twist.

Matt's recent shoot featured on English-Wedding
However, our finding Matt comes from quite a bittersweet story. I started researching further north to Newcastle to find a photographer who fit what we were looking for. I stumbled across a photographer (who will remain nameless), whose photographs I really liked. I emailed them with the idea for a comic book style photo shoot with blackboard complete with captions, as David and I used to draw comic figures for each other and leave them as backgrounds on each others laptops when the other wasn't watching; and I also made David 'The book of Sal 'n' Dav', and wanted the shoot to echo story told in it.
This photographer quoted me £295 for a 'concept shoot', which I admitted I wasn't keen on spending. I never heard another word. Upon checking a northern bridal blog a week or so later, I saw that the same photographer had called out for "a totally, like, loved up couple" to do a (free?) comic book romance shoot with! The funniest/most ironic part is one of the quotes used: "I think I may be onto something new and unique here! I'm chuffed to bits!". 'Unique'… really?!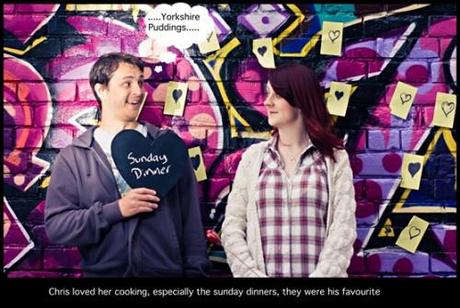 I was absolutely gutted, my idea was ruined and completely plagiarised down to the blackboards and captions against a 'gritty urban setting'. We decided to move on from the idea, it felt ruined. Like David said: "some people just don't care". I emailed in complaint saying everything I've said here and, funnily enough, received no reply. It's a shame that some professional creatives are still struggling to come up with their own ideas.
ANYWAY, that day I also stumbled upon Matt and fell in love with his style. I could hear his enthusiasm in his emails and since then I can't wait for him to photograph us. He has since (very kindly) offered to do a post-wedding shoot, a sort of trash the dress session for a couple instead of just the bride. We can't wait (provided I still fit in my wedding dress after devouring too much wedding cake!), so here's a big thanks to Matt for being so fabulous and enthusiastic!
Stay tuned for the results!
Sally xx
PS. Sorry I'm not crediting the second image.. but she didn't credit me for the shoot concept so I guess it's fair?