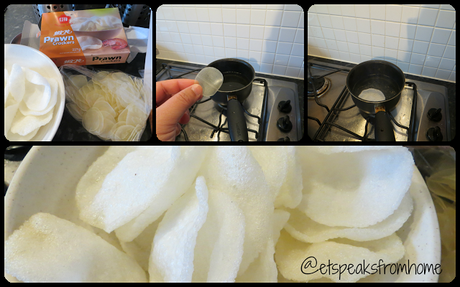 Each time you go to buy a Chinese takeaway, are you tempted to buy a bag of prawn crackers?  Sometimes in Chinese restaurants, they may serve you a basket of prawn crackers too. My children love it and we always have to stop them eating too many in case it spoils their dinner!
In fact, prawn crackers are the simplest snack to cook!  I always get the them from a Chinese supermarket and they cost less than £2.  Uncooked, they are a small solid round shape.
To fry the prawn crackers:
A box of prawn crackers
Plenty of oil to fill at least half of your wok
Kitchen towel
Chopsticks
Wok
1. Heat up the oil and use the chopsticks to test the heat.  The oil will bubble around the chopsticks if it is hot enough.
2. Gently slide in a few uncooked prawn cracker (depending on the size of your wok)
3. Quickly pick it out when the prawn cracker expands and drain on the kitchen paper
4. Serve immediately or put them in a ziplock bag when they have cooled down.
It is so simple to cook.  So if you like prawn crackers, why not cook it yourself instead of buying from the shop?  
I always love to cook it when I am hosting a party as they always go well with everyone!  
I have linked it up with amummytoo: Recipe of the week.