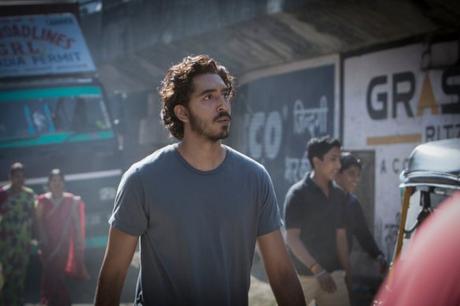 Based on Saroo Brierley's best-selling memoir, "A Long Way Home," the film tells the true story of a 5-year-old Indian boy who fell asleep on a train and ended up in Kolkata, thousands of miles from home. Lost and unable to tell authorities the name of his mother or hometown, he is ultimately adopted by a couple in Australia.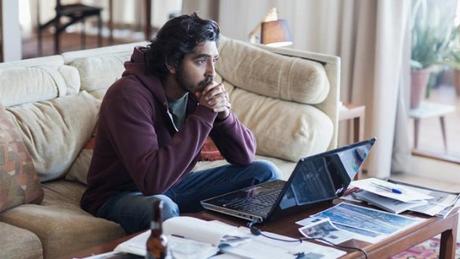 Five year old Saroo gets lost on a train which takes him thousands of miles across India, away from home and family. Saroo must learn to survive alone in Kolkata, before ultimately being adopted by an Australian couple. Twenty five years later, Years later, Mr. Brierley searched for his family back in India armed with only a handful of memories, his unwavering determination, and a revolutionary technology known as Google Earth, to finally return to his first home.
Tagging along with his brother Guddu (Abhishek Bharate) one night, Saroo falls asleep on a decommissioned train, which travels some 1,600 miles before letting him disembark in Calcutta. There, everyone speaks Bengali, rather than Saroo's Hindi dialect, making it doubly intimidating for a boy so far-removed from his family. Saroo can't speak the local language—Bengali as opposed to Hindi—and he can't even pronounce the name of his village correctly. Eventually, he is reduced to sleeping in tunnels and stealing food from public shrines. But somehow his innate street smarts kick in, allowing Saroo to survive long enough to be happily rescued from a potentially dire fate.
The director Garth Davis deftly conveys the desolation of Saroo's situation without wallowing in it, and the 5-year old newcomer non-actor Sunny Pawar gives a terrific performance. The first-time actor is able to transform from a happy, rambunctious adventurer into a dejected soul, both mystified and terrified by the world around him. Saroo is a chatty kid around his family, but when he loses the ability to communicate, he grows introverted. His identity has been ripped away from him, just as his home has.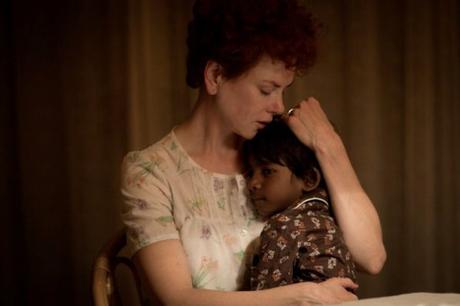 Strong emotional scenes arrive at several points in the film.
First, when Saroo somewhat guiltily confesses to his Australian adoptive mother, Sue (Nicole Kidman in an impressive parental role), that he has been spending countless days doing research while seeking out his birth family via Google Earth. The reason for his secrecy? He did not want to hurt the two incredibly generous and supportive people (his adoptive parents) who rescued him from a Dickensian existence filled with poverty, hunger and potential abuse after being taken to a big-city facility for homeless street children.
The second is during a revelation shared by Sue (a presence of maternal tenderness and  devotion). She finally explains to Saroo exactly why she and his father, John (David Wenham), decided to adopt him. Kidman, herself an adoptive mother of two, delivers her words with a nakedly honest emotion.
The final moments in the film when Saroo finally pinpoints his village in India and makes that voyage of rediscovery to a country he is an utter stranger in, especially the emotional scene of reunion with his aged mother surrounded by the entire village celebrating are ones where the film will leave few eyes dry.
LION may be by far the best film to be selected for the 2017 Academy Awards, and I expect atleast a few major Oscar wins for this film. Not the least of which may be the Best Actor choice for Dev Patel's breakthrough performance.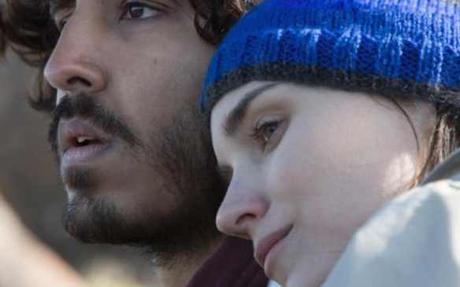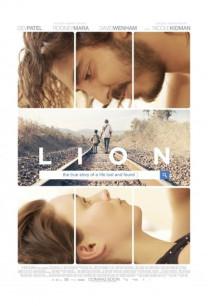 Director: Garth Davis. Screenplay: Luke Davies, based on the book "A Long Way Home" by Saroo Brierley. Camera (color, widescreen): Greig Fraser. Editor: Alexandre de Franceschi.With: Dev Patel, Rooney Mara, David Wenham, Nicole Kidman, Abhishek Bharate, Divian Ladwa, Priyanka Bose, Deepti Naval, Tannishtha Chatterjee, Nawazuddin Siddiqui, Sunny Pawar. (English, Bengali, Hindi dialogue)