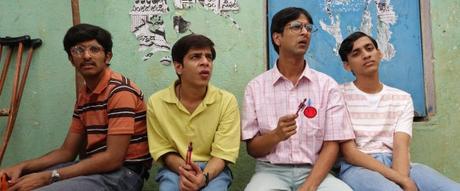 When a film begins with Jethro Tull playing "Locomotive Breath", and ends with The Doors singing the "Alabama Song", it is a film I must make time to sit down and watch.
The other thing that pulled me into "BRAHMAN NAMAN" was a funny but meaningful

quote at the beginning that pretty much summed up the sentiment of the film.
"All Said And Done, The Young Male, Anywhere In The World, Is A Rather Ugly And Pointless Evolutionary Experiment."
The brilliant piece of self-deprecation is attributed to a person named Naman, who turns out to be the unwise main character in this teen sex comedy set in 1980s Bangalore.
The film nails the lonely, deeply surreal boys club that is the quizzing subculture. The film (based on a somewhat autobiographical script by Naman Ramachandran) was an entry for Sundance 2016's World Cinema Dramatic Competition.
BRAHMAN NAMAN is comedy film set in the 80's, it revolves around the misadventures of Naman and his friends, a quartet of Brahmin nerds on a Bangalore U. quiz team whose alcohol-soaked mission is to lose their collective virginity. Mukherjee doesn't hesitate to show how socially entitled young men must learn social boundaries. The film is colored with a few intentionally uncomfortable moments that speak to some social truths, and deeper than merely recognizing juvenile horniness.
Naman (Shashank Arora) is a budding quiz master who wears his intellect as a suit of armor; he  spends his days sharing bits of random information and sexual trivia with his teammates, Ajay, Ramu, and Randy. Bossy and arrogant in his narrow social circle of similar brainiacs, Naman routinely leads his school to victory on the collegiate quiz competition circuit of the mid-'80s. But none of this pointless knowledge can help Naman and his pals in getting close with girls, which, in a way, is the real obsession of this movie, and not, (as you might have believed) Quizzing.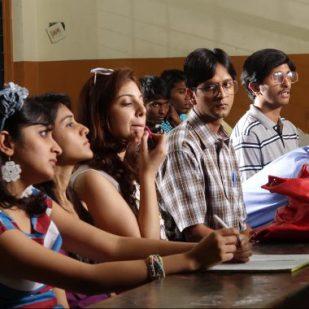 This is one subject Naman and mates Ajay (Tanmay Dhanania) and Ramu (Chaitanya Varad) seem really interested in, and of which they as yet have no personal experience. But they are obsessed with sex. Yet the foursome also fear the opposite sex, who are treated both as objects of lust and hostility. When not fantasizing about theoretical conquests — notably Rita (Subholina Sen), a beauteous lower-caste local girl whom Naman can't bring himself to talk to — they spend most of their time seeking inebriation with Brecht-Weill's "Whisky Bar," aka "Alabama Song," as musical theme.
Eventually, accompanied by new junior-classman teammate Randy (Vaiswath Shankar) and a none-too-responsible adult chaperone (Denzil Smith), they take the train to a nationwide quiz championship in Calcutta. En route, Naman meets his intellectual match in the words of a pretty Madras girls' team leader. Those words are spoken by Naina (Anula Navlekar), a young woman who calls Naman on his shit the first moment the two meet, just strangers on a train. She points out, matter-of-factly, that its obvious he is in love with her. They share a thermos of booze in between train cars, and she continues to speak with unbridled frankness.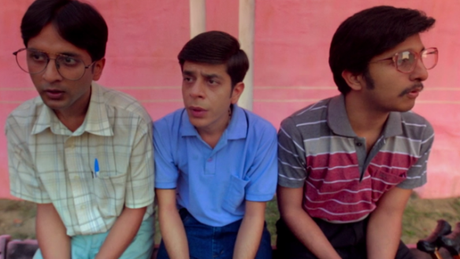 "Brahman Naman" (whose somewhat autobiographical script) was written by Naman Ramachandran, a journalist and critic, drawing on his own university experience and integrating the quiz-competition milieu, which provides an appropriate setting where nerdy virgins can test their personal and social limitations.
The Netflix release, directed by Qaushiq Mukherjee, pays homage to American sex comedies from Porky's and Revenge of the Nerds to There's Something About Mary. Mukherjee departs from the American formula and instead inserts a healthy scrutiny of India's caste system.
Production
(U.K.-India) A Riley presentation in association with Comiche of an Oddjoint production. (International sales: UTA, Beverly Hills.) Produced by Steve Barron, Celine Loop. Executive producers, John Herbert, Hani Farsi, Naman Ramachandran, Jeremy Gawade, Erica Emm, Debbie Vandermeulen. Co-producer, Alex Dunnett.
Crew
Directed by Q. Screenplay, Naman Ramachandran. Camera (color, widescreen, HD), Siddhartha Nuni, Q.; editor, Manas Mittal; music, Neel Adhikari, Miti Adhikari; music supervisor, Iain Cooke; production designer, Tabasheer Zutshi; art director, Krishna; set decorator, Tabasheer Zutshi; costume designer, Ritarupa Bhattacharjee; animation, Xtrathin Design, Karthik Ramachandran; sound/sound designer, Tarun Bhandari; re-recording mixer, Stefan Marchetti; assistant director, Indu Antony; casting, Rii, Pooje Hegde, Nalini Rathnam.
With
Shashank Arora, Tanmay Dhanania, Chaitanya Varad, Vaiswath Shankar, Sindhu Sreenivasa Murthy, Subholina Sen, Anula Shirish Navlekar, Siddharth Mallya, Sid Mallya, Denzil Smith, Biswa Kalyan Rath, Shataf Figar. (English dialogue)