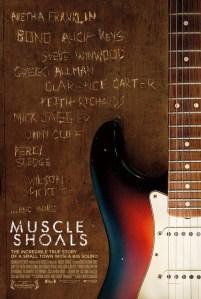 THE INCREDIBLE STORY OF A SMALL TOWN WITH A BIG SOUND
A magnificently soundtracked documentary showcases the town in segregationist Alabama that became an oasis of mixed skin colours and musical styles, and a wellspring of hit records.
Located alongside the Tennessee River, Muscle Shoals, Alabama is the unlikely breeding ground for some of America's most creative and defiant music. Under the spiritual influence of the "Singing River" as Native Americans called it, the music of Muscle Shoals has helped create some of the most important and resonant songs of all time. At its heart is Rick Hall who founded FAME Studios. Overcoming crushing poverty and staggering tragedies, he brought black and white together in Alabama's cauldron of racial hostility to create music for the generations. He is responsible for creating the "Muscle Shoals sound" and The Swampers, the house band at FAME that eventually left to start their own successful studio, known as Muscle Shoals Sound. Greg Allman, Clarence Carter, Mick Jagger, Etta James, Alicia Keys, Keith Richards, Percy Sledge and others bear witness to Muscle Shoals' magnetism, mystery and why it remains influential today. "Muscle Shoals" is set among the studios and players that turned an "undescript little town" (as local girl and Grateful Dead backup singer Donna Jean Godchaux calls it) into a recording capital.
What is it about Muscle Shoals that has made it such a mecca for musicians? That this small Alabama town on the banks of the Tennessee River has been able to produce and sustain not just one world-class recording studio, but two — FAME Studios and Muscle Shoals Sound Studios, both of which have drawn flocks of musicians of every stripe — is surely due to some kind of mojo. The word "magic" is mentioned a lot as the mesmerizing documentary tries to explain, or at least place in context, the extraordinary success of FAME (founded by producer Rick Hall in the late 1950s) and Muscle Shoals Sound (a competing studio spun off in 1969 by members of FAME's original house band, known as the Swampers). An unlikely impresario, Mr. Hall created Fame publishing in 1959 with two others and went on to record hits by the likes of Mr. Sledge and Clarence Carter, who both tell a few stories on camera.
"Queen of Soul" Aretha Franklin, one of many musicians featured in the film who recorded in Muscle Shoals, calls that sound, in a nice turn of phrase, "greasy." Reggae star Jimmy Cliff, who also recorded there, believes there's a field of mysterious energy in the town. But it's rocker Bono who speaks most poetically of the place's mysterious sonic power, saying it's like "the music comes out of the mud." Aretha Franklin's "I Never Loved a Man" was recorded at Muscle Shoals Sound Studio and the Rolling Stones — Mick Jagger and Keith Richards  recorded "Brown Sugar" in 1969.  Paul Simon cut "Kodachrome," Wilson Pickett cut "Mustang Sally" and Percy Sledge cut "When a Man Loves a Woman." Lynyrd Skynyrd was another Muscle Shoals client.
The film emphasizes one incongruous fact: Hall and the Swampers are white, while such black singers as Arthur Alexander, Percy Sledge and Wilson Pickett were responsible for many of FAME's earliest hits. Paul Simon, who recorded several tracks on "There Goes Rhymin' Simon" (1973) at Muscle Shoals Sound, called songwriter and Stax Records producer Al Bell, asking him, "Hey, man, I want those same black players that played on 'I'll Take You There.' " Bell, who wrote the 1972 Staple Singers hit, replied, "That can happen, except these guys are mighty pale." The list of musicians appearing in "Muscle Shoals" who speak of their studio experiences there is long, including Gregg Allman, Etta James, Alicia Keys, Keith Richards and John Paul White of the Civil Wars.
This colorblind recording history is fascinating. Several people in the film reminisce about how pioneering Hall was in his championing of black musicians, in both a place and a time in which segregation was still the norm.