The youthful, and mega talented young star Parineeti Chopra is the new face of NIVEA's brand new face cleansing solution - NIVEA Total Face Cleanup. 
A product under the Pure Effect range, this encompasses the benefits of face wash, face mask, scrub, spot reducer and oil remover. This revolutionary new product from NIVEA promises you a radiant look in just 5 minutes.  Total Face Cleanup from NIVEA, that Parineeti Chopra swears by,works on the skin on multiple levels giving it an unmatched radiance.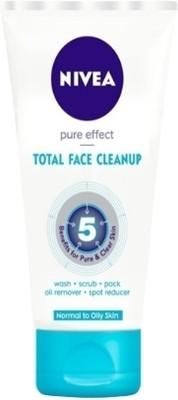 It washes off the impurities with its deep cleansing action

Unclogs pores and removes blackheads with its mild peeling action

Refines the skin's appearance and fights the bacteria that cause spots. 
All of this in just 5 minutes! 
Speaking on this occasion, Rakshit Hargave, Managing Director of NIVEA India said, ''Face Cleansing  is a fast growing category with a great deal of traction  amongst the youth segment. Parineeti, who is a reflection of the youth of today is a great fit because she is a talented young actor who has carved her own place in the industry; there is a good synergy which we saw .Total Face Cleanup from NIVEA is quite a revolutionary product because it gives you five benefits in a such a short period of time that you can basically incorporate it in your daily routine quite easily''. 
The NIVEA Total Face Clean up is a blessing for even those who have a hectic lifestyle as it gives you the benefits of an otherwise elaborate skin regime in a short time span. Grab your NIVEA Total Face Cleanup to keep your skin looking alive and glowing.  It is available across stores and is priced at Rs 199 for 150 ml and Rs 99 for 50ml