Lakmé, India's iconic beauty brand is about to re-invent itself. Innovating continuously and adding new products to its repertoire across cosmetics, salon services and skin care, this summer

Lakmé

will be seen in a whole new avatar. Designed by experts, Lakmé Clean-Up Nourishing Glow range is the new easy-to-use professional clean-up range to give you salon-like glowing skin every day.
Your skin is exposed to

dust, smoke and pollution daily, Sweat and dirt along with sebum and dead skin cells cause whiteheads, blackheads . These multiple attacks on your skin leaves it looking dry, dull and lifeless.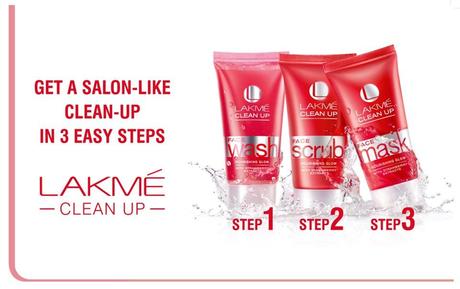 A salon clean-up ensures bright, fresh and completely transformed looking skin by removing dirt, pollutants and impurities from the epidermis. Now with the help of the new Lakmé Clean-Up

Nourishing Glow range

you can get that salon-like 'deep cleansing' for soft and radiant skin. This simple regime helps you restore your skin's glow and maintains its health.
Created by Lakmé, this easy to use professional clean-up range comes with three unique new formulations:  a face wash, a scrub and a mask. Enriched with strawberry extracts, the face wash cleanses all visible dirt, the scrub exfoliates dead cells and the mask nourishes the skin. Just like a salon clean-up!
Expert's Speak

"

For a deep cleansing experience,  just a face wash is  not enough.  You need a complete three-step clean-up ritual to get soft and glowing skin

" -

Daniel Bauer, Lakmé Expert
Lakmé Nourishing Glow Ritual:
A Professional weekly regime for salon-like clean up
Step 1
:
FACE WASH
Cleanse your face with

Lakmé Clean-Up Nourishing Glow Face Wash.

This facewash removes visible dirt, excess sebum and impurities preparing your skin for a deep cleansing experience.It contains strawberry, glycerine and microcrystalline wax beads.
• Squeeze a coin sized amount on your palms and lather up   with lukewarm water.
• Gently massage your wet face for 30-60 seconds
• Rinse with lukewarm water
• Use it at least twice a day for clean, soft and radiant skin
Available in 25gm, 50gm and 100gm for Rs. 40, Rs. 80 and Rs 145 respectively
Step 2
:
SCRUB  
Scrub your face and neck with

Lakmé Clean-Up Nourishing Glow Scrub.

This scrub unclogs pores, removes blackheads and other deep seated impurities. Enriched with 100% natural exfoliants like walnut & apricot extracts and corn meal along with strawberry extracts, it sloughs off the dead cells to reveal fresh, radiant skin
  

Squeeze out sufficient amount of to cover your face and neck

Gently massage for 2-3 minutes in circular motion with fingertips, avoiding eye contour

  Concentrate around problem areas like nose, chin and forehead

  Rinse thoroughly and pat dry

  Use it once or twice a week, as required to get deeply clean and smooth skin 
Available in 50gm and 100gm at Rs. 99 and Rs.199 respectively
Step 3

:

MASK

Nourish your face with a generous amount of

Lakmé Clean-Up Nourishing Glow Mask

as it deposits nourishing nutrients. The absorbing power of clay, the strawberry extracts  and Vitamin B3 present in the mask helps reduce pore size, seal in the nourishment and lighten skin tone respectively.
• Apply the mask generously all over your face and neck in a thin film. Avoid the eye contour.
• Allow it to dry for 5 to 7 minutes. Dab it with water to soften it and gently rinse off
• Use it once a week, to get salon-like healthy glowing skin
·
Available in 50gm and 100gm at Rs. 99 and Rs.199 respectively