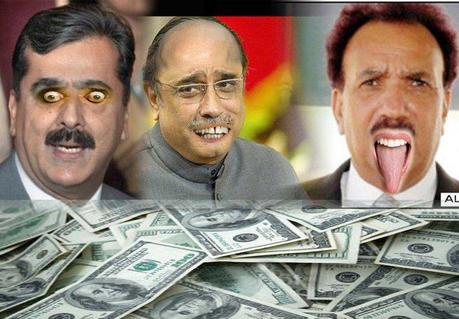 Most of the people say, Current tenure of the PPP government has been the worst and most corrupt period in the history of Pakistani politics; nasty, uncaring, arrogant, irresponsible and incompetent. Left or right, up or down, we have had and still have some major issues. IMF has recently said, "Underlying inflation remains high and represents a regressive tax that disproportionately hurts the poor,"  The absence of vision, insight and any clear idea of what needs to be done, given Pakistan's persistent, serious and growing, economic problems, has been the most striking aspect in our leadership. In this era the banks prospered, millionaires and tax evaders prospered, corrupts and dacoits prospered. The country continues on a downward spiral and today living here is not preferred by anyone. It is now passing through the most critical era of the history.
Are we living in the eighteenth century again, while the rest of the country, the livelihood of poor and the education and health service, suffer? What has this government done? Brought about a long-term slump in our economy; shut the industry, energy problems, unprecedented rise in debt, worst law and order situation, encouraged a generation of well-educated young people without long-term career prospects; set about dismantling the state sector that many people rely on; done nothing to give confidence to the private sector; and given just cause to make people think that the government is essentially corrupt, incompetent and dishonest.
Our rulers want to remain above law and to keep dragnet of accountability confined to have-nots only. They have no respect for law and superior judiciary. Morality, principles and values are of no concern to them. Look at leaders of the other nations. They have surrendered to system not to the whims of party stalwarts. They are stopping before the red traffic light though there is no police around. Everywhere they are guided by patriotism and marching ahead on the road to prosperity in the absence of corruption. The PPP is directly responsible for the present worst ever state of this country, and they are doing what they always do, make a mess, run away and leave it to someone else to clean up, then sit on the sidelines and blame the cleaners!
Never in the history has any government gone to war with its own people, but PPP has viciously attacked almost every segment of the population, including big corporations, small business, conservatives, the army, the Supreme Court, newspapers, peaceful protesters, climate change skeptics, their own allies. It is a corrupting government, disrespecting and destroying the integrity and impartiality of our democratic institutions. It is the government of criminals treating Pakistan like their own empire to be used and abused, lied to and remain unaccountable to, for their own power trips and advancement, complete with sleaze, vicious in-fighting, political assassinations and corruption. It is an evilly divisive government, pitting one Pakistani against another and destroying social harmony, all just to hang on to power. It has started a class war between the poor and the rich. It is a monumentally incompetent government, with virtually every program and initiative it has attempted failing, typically spectacularly and often lethally and too numerous to list here.
It is a government undermining our democracy, with its attacks on the freedom and independence of judiciary, its attacks on our respect for and freedom of expression by bribing some media houses and TV anchors, dividing the nation in the name of provinces and the like.  It has no understanding at all of basic financial and economic policy. Worsening economic condition in the country, deteriorating law and order situation, and energy crisis are the main causes of sinking rupee which witnessed sharp devaluation during five years. The widening current account deficit, excessive government borrowing from State Bank, absence of foreign flows, increasing oil imports, lack of foreign investment remained the norm during whole tenure. Industry groups and employers are railing against energy crisis.
Focusing on taxes to raise revenues is vital so that government can effectively provide services. But what if the real problem is that our government by its nature is incapable of providing cost effective services? I say that government spending on services are not only cost ineffective but probably harmful to the overall economy. The government has managed to destroy public institutions like the PIA, railways, steel mills, ZTBL, and the energy sector. The average GDP growth rate during the past five years has been the lowest in the history of Pakistan, and as per the IMF, the country's debt is not sustainable without foreign help. Daily there are new assaults. The government has broken faith with the electorate.
Our food is killing us. Our roads are crumbling. The only way to break free from this is for the people to vote in those who have the country's best interests at heart, not their own. Unfortunately, Presidency had been the center of conspiracies for the last five years. Parliament as a whole is an equal partner with a responsibility to provide oversight of the executive branch. During this tenure, Parliament has also not exercised this responsibility effectively. People are frustrated with politics. The state and the society are fast getting disconnected. People are getting disillusioned with farce of democracy and with leaders devoid of moral values and fear of God. The Federal Government has merely delivered lip service is just a way of attracting voters. Voter apathy is creeping up slowly. Voter turnout is declining.
Pakistan needs a brave, honest and loyal leader who possesses the real qualities of leadership, a man who could interact with nations of the world with self esteem and pride. Upcoming elections are not only for changing government but for the survival of the country also. It is of paramount importance for people to elect honest and devoted leaders in the coming general elections to bring about a real change in the country. The fate of the country could be changed only if we elected honest politicians.