I can tell the other half is getting the hang of his new collection of power tools. There was a time where any DIY type jobs would get put back and put back until evenutally he'd get out his rusty screwdriver and hand-me-down saw and reluctantly set to work.
The latest projects were
to re-use a piece of trellis (that used to be a side of the arbour), creating a cunning screen for the compost bins and a handy climbing frame for a clematis
to make a wooden path in the greenhouse and gravel the floor
We took the piece of trellis down to the strawberry bed, and quickly learned that (unusually for us) this would be a straightforward one. Two legs had to be sunk into the beds, then the other half could fix the trellis to the fence and the bed – job's a good 'un. I duly dug a couple of holes, plus one for the clematis that was going in, and called him back down the garden for the blue jobs, ie the drilling and fixing.
Lining up an angle bracket between the trellis and the fence, there was a bit of a gap. "You're going to need a long screw", I informed him. To which, he raised one eyebrow, and said, "I've been telling you that for years, dear". The cheek of it!
Anyway, innuendos aside, this little job was soon 'fait accomplis'.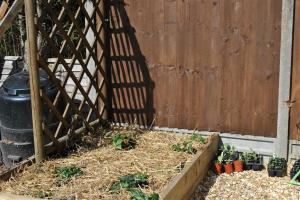 Next up was the path in the greenhouse. Out came the circular saw, and he set about making a raised path out of leftover decking, meaning we could fill around with pea shingle, smartening up the look of the place, and scuppering the plans of any weeds who may want to pop up in there.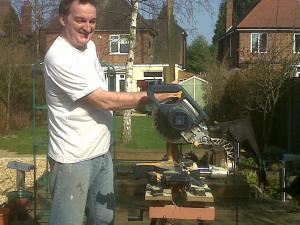 Again, another job completed without a hitch.
Now when I enter the greenhouse, it's like stepping on to a stage, or a catwalk or something.
And a 5, 6, 7, 8…work it baby!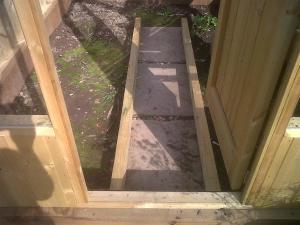 Before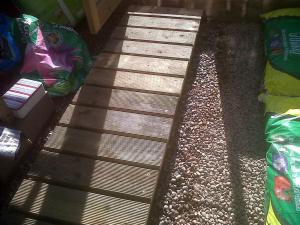 and after