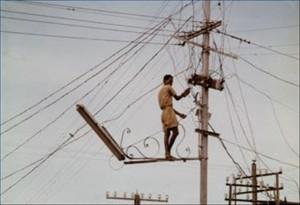 Throughout the country, as electricity rates increase so does the theft rate.  Transmission losses are one of the greatest concerns in Pakistan's energy sector today. Losses due to technical issues are compounded by the increase in electricity theft, which causes financial loss for many utilities and leads to higher costs for power consumers. The loss of revenues due to electricity theft from illegal connections, unbilled consumption, and non-payment is difficult to quantify. The energy sector in Pakistan has long been facing the gigantic problem of electricity theft. Electricity is realizing as much as a 44% line loss—the technical term for waste, fraud, and abuse; a large percentage of the loss is due to theft. While line loss is in part due to systemic inefficiencies and poor infrastructure, the rest due to illegal power connections, and being politicians engage in "politically-motivated theft." There are deep roots to the current crisis – and there can be little doubt that Pakistan's political leaders deserve a share of the blame. Recently Senate has been informed in writing by the Ministry for Water and Power that Pakistan lost Rs 90 billion during the last five years in electricity theft and line losses, though the actual loss could be far high. In spite of electricity theft being a criminal offence, state machineries hardly prosecute anyone.
There are three main methods used by persons seeking to obtain electricity illegally. These include making direct connections to power lines, meter tampering to cause the meter to under-register the amount of electricity actually consumed, and by-passing the meter so that all or some of the electricity consumed is undetected by the meter. There is direct theft of electricity. People, especially upcountry, have connected themselves to power lines illegally. Hooked wires dangling from distribution lines passing through streets is a common sight across Pakistan. Huge power produced in the country is lost to theft and inefficiencies in the state distribution networks as politics prevents speedy implementation of steps needed to stop the slippage.
Theft of electricity increases the cost of energy for customers. Legitimate customers bear the cost of electricity theft, which has now grown to unsustainable level, paying almost double price. In this way the legitimate customers are, in fact, subsidizing persons stealing electricity. Interfering with electricity meters also has potentially serious safety implications. Power theft carries deadly risks. Many thieves have paid for the power they are stealing with their lives. But the danger does not end with those who are engaging in illegal activity.  Increased incidence of damaged appliances as a result of reduction in power quality can also be seen.
The amounts and methods of theft are virtually identical throughout the country. Some consumers steal by manipulating the electricity counters to reduce the amount of their bills. Others use cables to illegally connect to the grid. Some powerful industrialists have colluded with authorities concerned to ensure that they receive uninterrupted electricity for their industrial units without paying anything to the utility companies. It's true that many poor people, unable to pay for electricity, illegally tap the grid. But they are scrambling to small lights, fans, and TVs — not air conditioners, large refrigerators, and other energy-gobbling appliances. Some of the biggest culprits are large residential, commercial, and industrial consumers who avoid paying their fair share of electricity, often by colluding with officials of power companies.
Theft is not only a major reason for load-shedding, but the financial loss occurring from theft also does not allow electricity companies to improve upon their distribution system. A 16-22 hours rolling blackout on a wide scale in Pakistan has made the life miserable in every sphere of life, bringing the day-to-day activities of the citizens to a standstill. The industry and business come to a halt during the prolonged hours of electricity load-shedding. This type of electricity load shedding happens anytime without any time table. Several protests are taking place around the country but without any fruits.
Every second third day, the Pakistani authorities highlight the need for more electricity and reduction in losses. Despite their promises, energy woes are strangulating the country. About 180 million Pakistanis are spending their day and nights without electricity. And the fallout from the blackout could have been even worse except for the fact that millions of Pakistanis, long frustrated by the country's endemic power cuts, have invested in their own generators to keep the lights on when the grid fails, consuming a major portion of foreign exchange. The current power crisis threatens to further undermine caretaker government's credibility.
It is very much possible to reduce the losses in a reasonably short period of time and that such investments have a high internal rate of return. The challenge lies in identifying who is stealing electricity. All the distribution companies should adopt a zero tolerance approach to the theft and should exercise all their rights under the law in collecting evidence and prosecuting offenders where necessary. They should step up their efforts to detect illegal connections and meter tampering. If illegal connections were curbed, more power would be available to customers who obey the law, power quality and safety would increase and people would experience fewer service interruptions. The companies should also invoke the Electricity Act 1910 to recover the outstanding dues from the defaulters — which have now reached billions of rupees. While the Companies take a multi-faceted approach in their effort to deal with the problem of theft, the Government / NEPRA should also seriously pursue the ways in which the cost of electricity to the consumer can be reduced to a satisfactory level.