Waking to the sound of rain falling on the roof tiles, you know the rain must be heavy, and with the windows rattling at the same time, it's windy too. And yet it's a beautiful day. It's my Pammy's birthday and we're celebrating in the rain! We went out to enjoy her favourite Japanese cuisine last night, and today we're going to have yum cha in Chinatown for lunch, then curl up at home this evening with a bottle of bubbly and as many potato crisps as she wants to eat.
Phone calls and prezzies are all part of birthdays around here, which we like to string out over a few days. And with this being the June long weekend holiday, too, we have three days to do the occasion justice. It all started with a knock on the door on Friday morning, and there was a delivery guy with a handsome timber box addressed to Pam. Inside was a beautiful gift: fruit.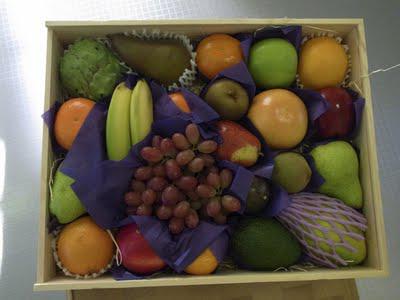 What a beautiful looking gift. Grapes, apples, pears, pawpaw, grapefruit, oranges, mandarins, avocado, banana, custard apple. When this handsome gift arrived, the birthday weekend began. The box itself is packed with straw, is quite nicely made with a timber top that slides into place, and I'm sure it will be put to good use as storage for something once we've eaten all the yummy fruit.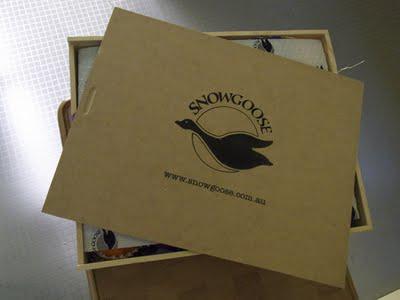 This is just a gift suggestion for Australian blog-readers, but if you're not sure what to give someone who is a good distance away from you, a box of Snow Goose fruit isn't cheap, but it definitely is a highlight, a delicious surprise to receive.
As it is raining steadily, I had better put down my blogging tools and take my girl into town. We have movies to see, dim sums to devour, and when we get home, champagne corks to pop!