Sorry, folks, but Potty Mouth aren't a riot grrrl band, not that there's anything wrong with that (we love you, Kathleen Hanna!). But just because Potty Mouth are four women doesn't mean it's necessary to discuss their music within the context of just one, gender-specific movement only. If these four young ladies were four young dudes, we'd be analyzing their debut LP, Hell Bent, just like any other brand new, buzz-worthy album. Then again, Hell Bent isn't just another album; without a doubt, Hell Bent is one of the hardest-hitting, most satisfying indie rock releases of the entire year.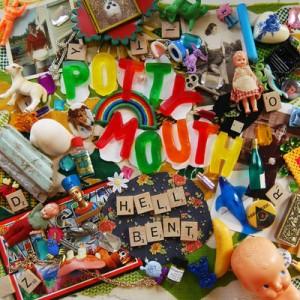 Hailing from Northampton, Massachusetts (perhaps best known as the former territory of Gordon/Moore), Potty Mouth currently stand at the forefront of a New England alt-rock renaissance that also includes bands like Speedy Ortiz, Fat History Month, and Pile; it's a youth-oriented, 90s rock revival that's been seemingly spreading like wildfire. Potty Mouth have emerged as leaders, though, thanks to the band's cool and casual approach to making music. Their crafty, poppy, punk-inspired sounds are carefully cultivated, but also loose, lively, and– dare we say it– just plain fun.
Potty Mouth singer Abby Weems is a somewhat unlikely, but perfectly fitting stage heroine; she delivers her vocals in a vaguely deadpan style that can be equally cutting, sarcastic, or self-deprecating. "I'm rusted shut/But I'm never gonna shut up," she gripes on head-banger "Rusted Shut." "Black and Studs" cradles a surf-rock vibe, as grungy riffs and airy background "oohs" dance toe-to-toe. Not surprisingly, there's plenty of clever aggression to be found on "Shithead," while the dreamy "Sleep Talk" woos its listener with pretty melodies, precise power-drumming, and irresistible charm.
It's almost like there's too much to love on Hell Bent; from the dizzying haze of "The Spins" to biting, ballsy album closer "The Better End," each track is a jagged little pill of nostalgia, expertly re-branded to suit Potty Mouth's already signature style. Busting barriers and poised to take control, Potty Mouth are the new poster girls for a scene that's all their own.

4 / 5 bars