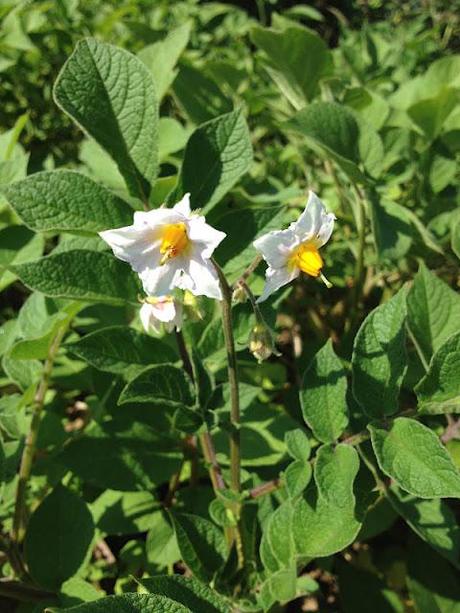 The undeniable successes of 2012 (so far) have largely come from the Allium bed.  The shallots, onions and garlic have all outdone themselves but there may be a vegetable set to challenge them.
So far the potato bed has remained largely untouched. I harvested some 'Swift' and 'Pentland Javelin', which were useless and disappointing respectively, and I then assumed that I was in for a repeat when it came to harvesting any of the others.  I was wrong.
When harvesting one potato cultivar, which I've not grown before, I was quite shocked to see that plant after plant, it consistently produced fairly large tubers and en mass too.  That potato was 'Wilja', a second-early, and I'll definitely be growing it again.  From a row six foot long I harvested 5kg of potatoes (11lbs in old money), which I thought was pretty good considering Garden Organic state the average yield of early potatoes to be 5.5kg/3 meter row.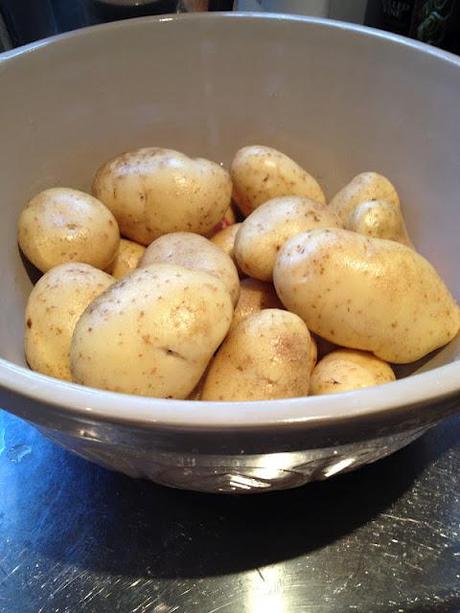 They didn't disappoint in the kitchen either.  At the slightly waxy end of the potato spectrum (well, that's what I'm calling it anyway), this potato is perfect for most treatments but simply boiled with a slathering of good butter - it tasted divine.  I'm a bit of a sucker for a good spud and although many people feel they take up too much room in the garden or at the plot I just don't think you can beat them and they are a must-have for me.
I'm yet to dig up the remaining 7 rows of spuds, which consist largely of 'Sarpo Mira' and two other main crop cultivars, the names of which are written on their labels but not emblazoned in my memory.  I can only hope that they produce as well as 'Wilja' has.  Usually, I like to change the potatoes I grow from year to year but I think I may be growing this one again in the not to distant future.